Spring cleaning is probably the worst part of the new season, but it does have some benefits. It's the perfect time to get rid of all the clothes you've been hoarding, organize your snacks or freshen up your bathroom. It also helps to remember that once your home is all clean, the relaxation can begin. The following list is going to help you organize any and everything you need to start the new season, whether you like to entertain or enjoy your own company.
Video of the Day
1. Wayfair Basics Glass Canister Set
An easy way to get the ball rolling is to switch your kitchen containers and this glass canister set from Wayfair is going to make getting your kitchen in order more fun. They make is so much easier to see what you have, thereby saving time when you're on a food hunt. Since the canisters are glass, they will also match the décor you already have. You would also be getting rid of unnecessary boxes that tend to take up space.
​Available at Wayfair:​ Wayfair Basics Glass Canister Set
2. Simplehuman Cabinet Organizer
The pullout cabinet organizer is pretty self-explanatory – it brings order to an untidy cabinet. It's described as reducing clutter while utilizing hard-to-reach spaces. It also glides in and out on smooth commercial-grade ball bearing tracks while holding up to 20 pounds. It has an easy-access handle and an adjustable divider. This would be great for someone who wants to get their pots and pan in order.
​Available at Amazon:​ simplehuman Cabinet Organizer
3. Closet System Starter Kit
Tackling a closet is probably the most daunting cleaning task of them all, but with this starter kit, it'll be less of a chore. There are three different configurations to choose from, depending on your preferred color palette. It can be mounted to the wall, so there is assembly required, and there are also adjustable shelves. This unit would be very helpful in deciding what to keep in your newly spring-cleaned home.
​Available at Wayfair:​ Closet System Starter Kit
4. Elfa Classic Closet
This next item is for more seasoned spring cleaners. The reach-in closet, exclusive to the Container Store, can maximize your space to accommodate all of your clothes no matter the season. Mesh drawers keep things divided and easily accessed. Shelves are ventilated so that shoes and other accessories can be safely stored. There is some assembly with the horizontal track needing to be mounted, but as there are instructions included, it shouldn't be too difficult. This classic closet would definitely take your bedroom up one level and may even inspire you to do more organizing.
​Available at The Container Store:​ Elfa Classic Closet
5. Steam Mop
Mopping has to be one of the most tedious tasks known to man. Enter the Bissell power fresh steam mop. With its easy flip-down scrubber head, you'll be able to get through tough, sticky messes, grout and crevices when needed. It includes one microfiber soft pad, one microfiber scrubby pad, two spring breeze fragrance discs and a carpet glider. This mop is going to help you to get those floors in your home gleaming and ready to eat off of.
​Available at Amazon:​ Bissell Power Fresh Steam Mop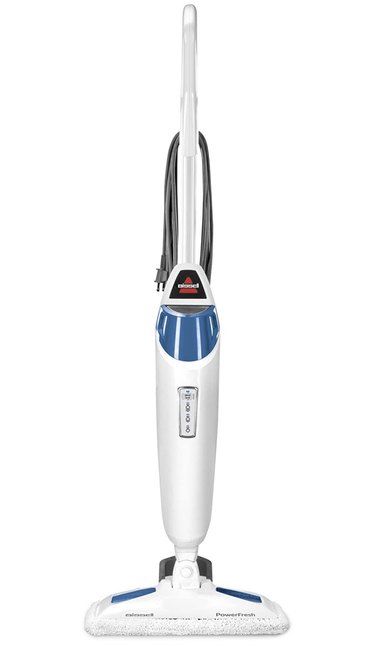 6. Magnetic Spice Tins
Kitchens might be one of the more fun spaces to organize because of how much time you spend there. These magnetic spice tins will make cooking or kitchen time easier because of how compact they are and how easy they make it to store spices. The tins have a clear lid for quick identification and they also come with 102 spice labels, with some blanks for the buyer to fill in. The magnetic backing allows the tins to attach to any flat metal surface, which includes refrigerator doors. The tins are a sure way to declutter a cupboard or drawer while also adding a bit of character to your space.
​Available at Amazon:​ Magnetic Spice Tins
7. Under Shelf Basket
If you're someone who wants to maximize any available space, then the under shelf basket is right for you. It's convenient, allows for space maximization, a tight mesh grid so nothing will fall through, and also comes in three different sizes, depending on choice. This is a perfect way to create more space if space is limited or to keep related items together for more organization.
​Available at Amazon:​ Southern Homewares White Wire Under Shelf Storage Organization Basket 10-Inch
8. Electric Spin Scrubber
Cleaning the bathroom is a dreaded chore. No one wants to do it, but everyone loves a fresh bathroom. The Fruiteam electric spin scrubber is the ideal home cleaning assistant because it can be used in hard-to-reach areas and on stains. This tool is going to save time and cause less back pain, which is a major pitfall of cleaning in general. It can also be charged so there would also be less waste than with other scrubbers.
​Available at Amazon:​ Fruiteam Electric Spin Scrubber
9. Simple Houseware Organizer
The most cumbersome items in the pantry are canned food. With this next organizer, they're going to be so much easier to stack. No time is needed to stack your cans and they'll look nice all together in one place. The organizer can take up to 36 cans depending on the size, is easily assembled and has a chrome finish.
​Available at Amazon:​ SimpleHouseware Stackable Can Rack Organizer, Chrome
10. Storage Bins
The simplest way to tidy up is to put things in a container, and these storage bins fit that to a T. They come in a set of four and have large openings with dips in the front so things are easy to grab. They're also great for any room you think of: pantry, office, bedroom, laundry room or even the refrigerator. The bins are also made of clear plastic which allows for the items to be easily recognized. These bins would be a great way to start organizing little by little.
​Available at Amazon:​ mDesign Plastic Open Front Food Storage Bin
Any of these tools will help make your spring cleaning day pass quickly. You'll be able to get any space organized so that in the future, you'll be able to rest more easily. It also helps to remember that even though cleaning isn't the most fun activity, it does help to keep order, and you will also feel pride once you're able to take a look around and feel satisfied with what you see.