​eHow may earn compensation through affiliate links in this article.​
If you've only recently made the pledge to go green, the kitchen is a great (if not the ​best​) place to start. Aside from the fact that it's where we prepare the stuff that we put into our ​bodies​ (so, the less nasty chemicals we use, the better), it's where we tend to create a whole lot of unnecessary waste. Paper towel overuse, anyone? Fortunately, there are plenty of eco-friendly alternatives for everyday kitchen products, and replacing just one of our non-sustainable items with a sustainable version is an easy way to make a big impact.
Video of the Day
1. Caraway Ceramic Cookware Set
Why are we in love with Caraway cookware? Is it because of the non-toxic mineral-based coating that won't end up in your food? Maybe it's the fact that manufacturing them releases up to 60% less CO2 than conventional non-stick cookware. And speaking of non-stick – yep, they're ​that​ too. Or could be because Caraway ensures that their manufacturing partners provide safe working conditions, fair pay, benefits, and regulated work hours to their employees? Absolutely. Oh yeah, and they're also pretty dang cute and available in an array of on-trend colors.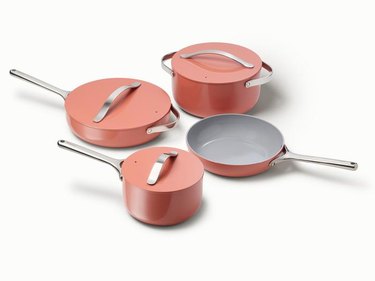 2. Cotton and Linen Bowl Covers
We're on a mission to make our kitchens a no single-use-plastics zone. Cling wrap is one of those culprits, but what to use when we need to cover up a lidless container? Elastic cloth bowl covers, that's what. They look like shower caps that you slip over your food containers to keep stuff out and odors in during storage in your fridge. Just wash and reuse.
3. Beeswax Wraps
Ditch the disposal plastic baggies and grab some all natural beeswax food wrapping paper when you're packing your lunch or saving your grub for later. These wraps from You Enjoy My Goods on Etsy is made with organic cotton fabric coated with beeswax, pine resin, coconut oil, jojoba oil. Or, if you're a DIYer, check out our tutorial and make some of your own.
4. Walnut Scouring Pad
Good news: you've found a kick-ass veggie lasagne recipe. Bad news: it leaves behind that stubborn, burnt-on crud around the edges of your casserole dish. Instead of grabbing a plastic scouring pad, get yourself an all natural version like this Walnut Scouring Pad by Public Goods. Made out of sustainably-sourced ground walnut shells, plant cellulose, and recycled fibers, your messes are no match for these heavy duty scrubbers. Just be sure to soak that dish in warm water before you scour, unless you enjoy applying extra elbow grease!
5. Paperless Towels
Even if ​you​ might not use two paper towels for a single towel job, that might ​not​ be the case for everyone else in your household. And if getting preachy doesn't work with your stubborn house mates, simply replace those paper towel rolls with a tall stack of paperless towels – like these from Generation Me on Etsy. They're 100% made out of Birds-Eye cotton (which, fun fact, gets its name from the diamond weave that looks like a birds eye) that's known for its high absorbency and super softness.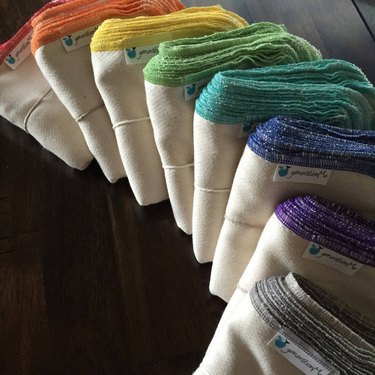 6. Stainless Steel Pour Over Coffee Filter
So you've given up those single-use, non-recyclable plastic coffee pods and have opted for an energy-saving pour over brew instead? Go you! But if you're still using paper filters in your Chemex or Hario v60 (or similar brewers), you might consider taking the next step and getting a reusable stainless steel filter like these ones on Amazon. Available in rose gold and silver, these double-layer mesh filters provide stable flow speed allowing for a flavorful extraction and are cleaned with a simple rinse of water. Low maintenance with less waste. Sign us up!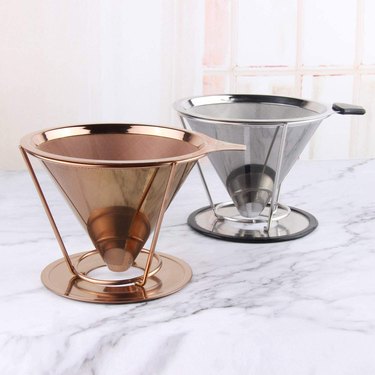 7. Reusable Organic Tea Bag
We've covered coffee, so time to move on to tea. There is a wide selection of no-waste tea infusers on the market made from either stainless steel, food grade silicone, or the type built into ceramic teapots. But what if you're a tea drinker who loves a strong brew using an old school paper tea bag that captures that even the finest dust particles can't pass through? We've got you! Reusable ​cloth​ tea bags provide a finer mesh strain than metal or silicone infusers do, allowing in all the flavor while staining out the tiny stuff. (No more loose-leaf floaters in your cuppa!) These organic tea bags are made with responsibly-produced and sustainable hemp (55%) and cotton (45%). They can also be used as herb and spice infusers for soups and stews.
8. Silicone Food Bag
I don't even want to think about the amount of plastic sandwich and snack bags I've used in my lifetime. But those days are behind me since the invention of these nifty BPA-free silicone bags! They've got that familiar pinch-lock, air-tight seal, but they can be used again and again. You can even throw these non-toxic bad boys into the dishwasher for no-fuss cleanup, and in the ​microwave​ for a quick reheat of whatever noms you've stored inside. All of the wins, none of the waste.
9. Sodastream
Are you still buying liters or six-packs of your favorite fizzy beverages? If so, isn't it about time you switched to Sodastream? You'll have everything you need right on your kitchen countertop to make all the sparkling drinks your heart desires. Or store it wherever you want—no electrical outlet needed! Everything is reusable/recyclable – the BPA free bottles and the CO2 cylinders. Also, the convenience can't be beat if you can sign up for pickup and delivery of CO2 cylinders from the comfort of home. Or, simply drop off and pick up at one of many convenient locations.
10. Recycled Bamboo & Cork Canisters
Nothing beats bamboo "wood" for its unparalleled sustainability. If we're talking technically, though, bamboo isn't a wood at all. That's because it's not a tree – it's a grass, and one of the fastest growing plants in the world. But bamboo's not just good for hardwood flooring and furniture, it also makes for an eco-friendly material for kitchen accessories like chopping boards and dry goods food canisters, like these colorful cork and bamboo beauties by Ekobo. They're way prettier than plastic and much kinder on Mother Earth.
We hope we've helped you discover some of the many ways you can go green by implementing just a few minor changes around your kitchen. With more consumers becoming aware of how their daily purchases affect the environment, you can pretty much guarantee that for every unsustainable kitchen item on the market, there's a greener alternative.