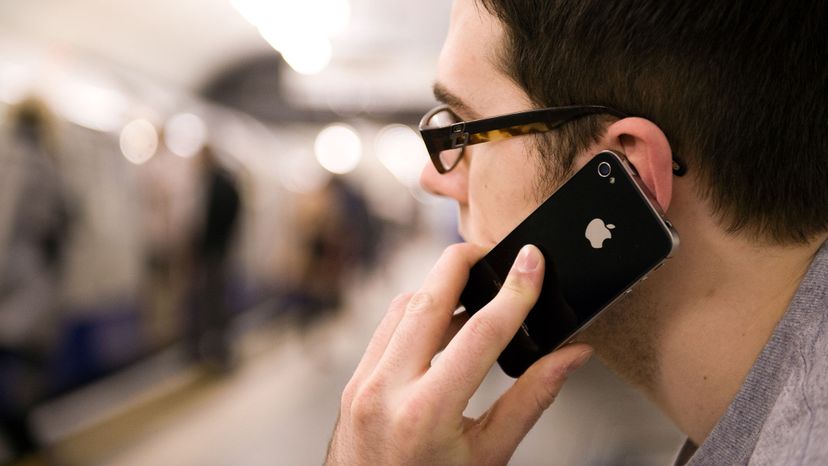 "Why does the hold music manipulate your mood? Will Ireland/Future Publishing via Getty Images
If Dante were alive today, the tortured souls in the ninth circle of hell would suffer an eternity of being on hold listening to a brain-scrambling tune interrupted every 20 seconds by a robotic she-devil intoning, "Your call is important to us. Please stay on the line and a customer service representative will be with you shortly." No!!!!!
As hard as companies make it to get a live human being on the phone, they do actually care about customer service. Angry customers who hang up after 27 minutes on hold are more likely to badmouth the company on Twitter or switch to a competitor. It's called the "economic cost of waiting."
Which is why enterprising businessman Alfred Levy knew he was on to something back in 1962 when his factory's phone system accidentally picked up a local radio signal and played music when customers were put on hold. When callers were distracted by the music, Levy noticed, they were less likely to hang up, so he filed a patent for the world's first "music on hold" system. (Next time you're stuck on hold listening to a pan flute cover of Lionel Richie, you can thank Al.)
Since then, there's been some eye-opening research into the psychology of waiting and what types of music and messaging make the on hold experience more or less excruciating. Besides hold music, the biggest innovations in waiting science have been the "estimated time" and "place in line" messages, techniques perfected by Disney theme parks, the waiting-est place on Earth.
The Best Strategy for Putting People on Hold
According to a 2007 study comparing different types of on hold messages, the most effective trick for keeping people sane on hold was to tell them where they stood in line. In the experiment, 123 callers were put on hold for two minutes. A third listened to hold music, a third got music interrupted by messages apologizing for the wait, and the last group heard music punctuated by occasional status updates: "You are the 4th caller in line… You are the 3rd caller in line…, etc."
Quizzed afterward about their experience, the people who received the status updates were the most satisfied. It wasn't necessarily that they perceived the wait to be shorter than the other groups, but that the sense of progress was comforting.
"It is not an issue of time; it is an issue of obstacle," study author Anat Rafaeli told the American Psychological Association. "What makes me happy is when I realize that I am getting closer to removing this obstacle and getting what I wanted."
Prior research posited three psychological explanations for the effectiveness of estimated time messages on hold:
The resource allocation model: Callers only process that they're wasting time on hold if they consciously notice the passing of each "time unit." If callers believe that a computer is tracking time for them, they turn off their internal clock and perceive that less time has passed.
The uncertainty reduction model: The sharing of wait time information reduces the stress of not knowing when, if ever, the darn customer service rep will pick up the line.
The cognitive reappraisal model: Basically, if you know that you're going to be on hold for 10 minutes, you're less irritated by being on hold for 10 minutes. Even if you're ticked off at first, you get over it.
We Aren't the World
But what about the hold music itself? Do different types of hold music affect callers differently? A 2014 study asked if pop songs with positive messages could improve the moods of callers waiting on a customer service hotline. It turned out that hearing "pro-social" music like Michael Jackson's "Heal the World" just made frustrated callers even more pissed.
Then there's the question of whether popular songs are a better distraction than generic elevator music. Another study found that people subconsciously use background music as a "quasi clock," estimating the length of each song and adding them up to perceive total wait time. Since familiar pop songs are more "accessible to memory," the authors wrote, they're more closely tied to a time interval and wait times are perceived as longer than with unfamiliar songs.
All of this research makes you wonder, though, why the on-hold experience delivered by so many companies is still so awful. No one should be subjected to ear-assaulting music like this when they're calling to report an issue with their gas bill. Not when we know so much about the psychology of waiting.
For answers, we reached out to Rich Moncure, president of On Hold Marketing, a company that creates custom hold music and messaging for businesses that presumably like their callers. Moncure, also a professional musician, helps clients match their hold music with their caller profile and brand. While he doesn't consult research, per se, Moncure calculates average wait times to determine the right mix of music and messaging.
"The goal of our industry is to make hold time seem shorter than it is," says Moncure, adding that variety is the key. "If it's music only, we switch it up every two minutes. If you let that music drone on, whatever the music is, that makes the whole time seem longer."
And avoid repetition at all cost.
"At a call center, if your average queue time is 10 minutes, then you never want any piece of music to repeat itself," says Moncure. "Because once callers start hearing a loop, their sense that they've been on hold is heightened."
Why Hold Music Is So Bad
You don't need a Ph.D. in "waiting science" for this stuff to make sense, right? So what explains the low-quality, constantly looping music and lame messaging that passes for most on hold experiences? For Moncure, it basically comes down to laziness and one particular technological glitch.
For starters, too many companies simply use the default hold music that comes with their phone system. Moncure calls it "canned" music, and while some people inexplicably love it, much of it is irritating and repeats ad infinitum. Like the example below:
"That's a big problem in our industry," says Moncure. "Often canned music is on a very short loop and it drives people crazy."
But even if a company goes the extra step to curate a reasonably inoffensive modern jazz playlist for their hold music, their phone system technology can still render it unlistenable. Most call centers, for example, rely on Voice over Internet Protocol (VoIP) phone systems. These internet-based systems are designed to transmit the human voice across digital networks in discrete little packets of data. That works OK for voice calls but is a poor medium for music.
Moncure says that the audio spectrum on VoIP calls is very narrow and concentrated in the mid-range, which explains why high and low tones come through as warbly and distorted. For customers with inexpensive VoIP systems, he has to write what he calls "thin music," single-note melodies within the same octave and a half range.
"It's absolutely an artistic decision that we have to make, but there's also a technical element," says Moncure. "We need to make sure from a technical perspective that the hold music will actually fit within that tiny pipe that VoIP often gives us."
Now That's Cool
If you want to skip the hold experience entirely, try GetHuman. The website lets you look up direct customer service numbers for hundreds of companies and even offers its own call back service. Enter your phone number and GetHuman will call you when it gets a live agent on the line.