The thought of spring and summer has me scouring the web endlessly for dresses, shorts, and bathing suits (I have a slight obsession with the latter). And since winter is the season for dry skin, I've been thinking more and more about what to do to get my skin smooth and ready for the warmer months. A great way to get the soft skin of your dreams is to exfoliate with body scrubs. I've never been big on exfoliating before, but lately I've been experimenting with more products in the beauty realm and scrubs have a new place in my heart. The most wonderful thing about them is that you can easily make them yourself at home – and you're likely to have many of the ingredients in your pantry already!
Leaving your skin soft and fresh is just the beginning for these magical scrubs. Different ingredients have different benefits that work wonders for your body. Caffeine, for example, does an amazing job in tightening your skin and getting rid of stretch marks and cellulite. Green tea is packed with antioxidants to detox your skin, and if you suffer from acne, oatmeal works hard to deep clean your pores and refresh your skin. There are also scrubs for sensitive skin, dry skin, and some even go so far as to boost your mood!
No matter your skin issues, there's a scrub for you! Check out 15 body scrubs for flawless skin and exfoliate away to your most gorgeous bod ever!
Don't have time to make your own? We're currently crushing on Bath %26 Body Works AROMATHERAPY Stress Relief Eucalyptus Spearmint Sugar Scrub. It smells divine and gets the job done!
And now for those homemade body scrubs…
Body Scrubs for Stretch Marks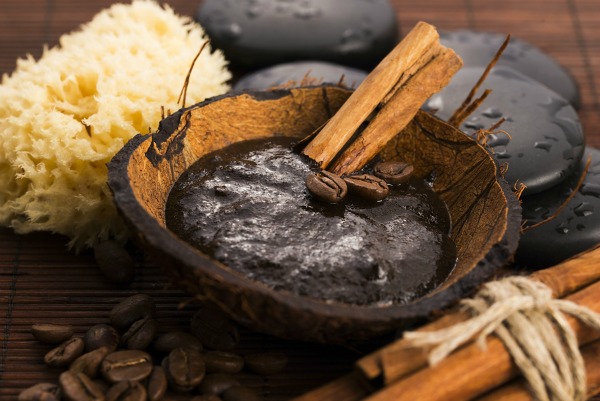 DIY Coffee Scrub (Skinny Ms.)
Caffeine isn't just a morning pick-me-up, it's also a miracle worker for fading stretch marks. This scrub combines coffee with olive oil – an ingredient that penetrates to reach stretch marks, which lay beneath the surface of the skin.
Brown Sugar Oatmeal Body Scrub (ebay)
Mmmm this body scrub sounds good enough to eat! You'll likely have most of these ingredients in your pantry (oatmeal, brown sugar, honey, vanilla) so it will be easy to whip up! Scrub away to gorgeous, glowing skin.
Coconut Oil and Coffee Body Scrub (Mad in Crafts)
With both coffee and coconut oil as key ingredients, this scrub is sure to work wonders for you stretch marks. It's detoxifying and will make your skin tighter and firmer, just in time for bathing suit season!
Body Scrubs for Cellulite
Sea Salt Scrub (Inspire Beauty Tips)
Coffee isn't the only way to combat cellulite! Sea salt is another simple way to blast the unwanted enemy. This three-step scrub will leave your skin feeling soft and toned.
Peppermint Seaweed Cellulite Scrub (La Lune Naturals)
Banish your unwanted cellulite with seaweed powder. Your favourite sushi wrapper not only increases circulation in your skin, but also rids your body of toxins. Peppermint essential oil also has tightening properties to make the fight against cellulite even more powerful!
Coffee Honey Sugar Scrub (Delightfully Tacky) 
Another scrub with coffee (it really works!), this one also contains goodies like coconut oil, sugar, cinnamon and raw honey. Coffee is packed with antioxidants and the sugar works to banish dead skin cells. The entire combination will lead to dreamy looking skin.
Body Scrubs for Dry Skin
Green Tea Sugar Body Scrub (Shelterness)
I love green tea! Since it's full of antioxidants, it's great for dry skin as it works to detox and exfoliate your skin. This scrub also has coconut oil, which is known to soothe and soften skin, even at its driest.
Lemon Poppy Seeds Sugar Scrub (Sprinkle of Cinnamon)
If you're suffering from dry winter skin, this body scrub is for you! With vitamin C, almond oil, lemon essential oil and poppy seeds, the ingredients fuse together to even skin tone and moisturize.
Pina Colada Coconut Body Scrub (Setting for Four)
This scrub is oozing with coconut oil, which is highly moisturizing and key for combating dry skin. Plus, it smells like pina colada, and what could be better than that?
Body Scrubs for Acne
Oatmeal, Yoghurt and Honey Scrub (The Indian Spot)
When you have acne, it's important that your pores get a deep clean in order to remove oil and nourish your skin. The oatmeal will work on your pores, while the yoghurt and honey smooth and balance your skin.
Vitamin HB DIY Acne Body Scrub (Huda Beauty)
I suffer from the occasional pimple on my back and chest and it can be so annoying! This mix will clear up your acne, as well as keep your skin super soft! The best of both worlds!
Baby Rose Sugar Scrub (Smart Schoolhouse)
Rose is making its mark as the go-to ingredient in the beauty world. It's toning, moisturizing, and has amazing antibacterial and antioxidant properties that work to calm acne.
Body Scrubs for Sensitive Skin
Vanilla Sugar Scrub with Orange Essential Oil (Midwest Modern Mama)
The ingredients in this body scrub are soft on your skin, so if yours is sensitive, try this one out! The orange essential oil also helps to boost your mood, which is a great morning pick-me-up!
DIY Blueberry Lemon Body Scrub (Dear Crissy)
This sounds more like a delicious dessert than a body scrub, but you actually get to smother it from head to toe! Blueberries have so many antioxidants that help with sensitivity and this mix is sure to refresh and soothe your skin.
Almond and Floral Body Scrub (Lia Griffith)
Not only does this scrub work to soften, and exfoliate your skin, it smells great too! Along with floral essential oil, you can also add your favourite petals for a relaxing and natural fragrance.