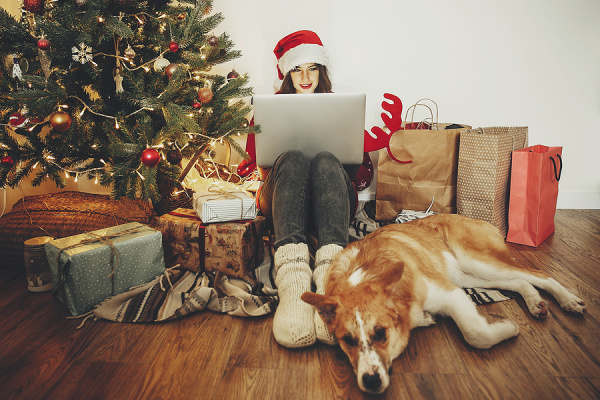 If you're celebrating the holidays online with friends and family this year, this post has lots of ideas to help you make it special and memorable. Whether you plan to celebrate on Zoom or FaceTime, these virtual Christmas celebration ideas will inspire you to get creative and find ways to enjoy holiday traditions with the ones you love, even when you can't see them in person. From making gingerbread houses, to Secret Santa gift exchanges, to family meals and more, I hope this post helps you find ways to find joy and love this season!
11 Family Virtual Christmas Celebration Ideas
1. DRESS THE PART
If you're looking for easy virtual Christmas celebration ideas the whole family can participate in – and get excited about – send a note to everyone ahead of time and encourage them to come to your online party dressed in Christmas-themed attire. Whether it's a red dress, Christmas tie, reindeer head band, or Christmas-inspired face painting, challenge your family to put their creative hats on! The kids in your life will enjoy this, and you can take it a step farther and organize a contest for specific categories like best dressed, most colorful, funniest, most unique, etc.
2. START WITH A CHRISTMAS COCKTAIL
Many Christmas get-togethers start with a cocktail (or 3) to help people unwind and relax after all of the hustle and bustle leading up to the holidays, and if this is a tradition your family enjoys, you can still do it virtually! As an added twist, ask everyone to create their favorite cocktail (or mocktail) to enjoy at the beginning of your celebration, and have them share the recipe with the rest of the crowd. If you have a large family, you may even consider creating a family cocktail recipe book and distributing it to everyone after the event!
3. COOKIE DECORATING
If you have young children in your family and need virtual Christmas celebration ideas to keep them occupied and entertained, ask everyone to have sugar cookies and icing in various colors handy for your party. You can then chat together while you decorate cookies, and show off your masterpieces as you go. This will be especially exciting if you're hosting your virtual celebration on Christmas Eve as kids can leave their creations out for Santa and his reindeer to enjoy!
4. GINGERBREAD HOUSE CONTEST
Another one of my favorite virtual Christmas celebration ideas is to host a gingerbread house making contest! Ask everyone to come with a gingerbread house kit (which you can buy on Amazon or at your local grocery store), and enjoy a few Christmas cocktails while you try to assemble and create your own unique houses. This is an activity that can be enjoyed by all ages, and you can give out awards for the neatest, most creative, and even the worst gingerbread house.
5. SECRET SANTA
Gift giving can be a little more challenging when you're celebrating virtually, but if you plan ahead, you can still buy and ship gifts to your loved ones and open them together in real time. Of course, ordering and shipping gifts is more time consuming and expensive, so hosting a Secret Santa might be more appropriate than buying for everyone. You can work together as a family to set a limit on how much everyone can spend on their Secret Santa gifts, and then send everyone the name of the family member they are to buy for a few weeks prior to your virtual party so they have time to think of the perfect gift, and then buy and send their present so it arrives on time.
On the big day, have everyone take turns opening their gift in front of the camera so the rest of the family can see what they got and the expression on their face, and then challenge them to figure out who their Secret Santa is. It's a fun way to add a little bit of excitement into your celebration, and the kids in your family will absolutely love this tradition!
6. PLAY GAMES
As more and more people start planning and sharing their virtual Christmas celebration ideas, the internet is full of creative ways we can play games with friends and family online. Here are a few ideas, which are suitable for all ages and stages!
Two Truths and a Lie. Ask everyone to write down 2 personal truths and one lie about themselves, and then ask them to take turns sharing the items on their list while the rest of the family tries to determine which item is the lie. This is a quick and easy way to lighten the mood and get everyone laughing while learning personal facts about one another!
Christmas Scavenger Hunt. If you're looking for kid-friendly virtual Christmas games, one of the easiest things you can do is create a Christmas-themed scavenger hunt. You can collaborate with the other parents in your family and hide specific items around your respective homes to make it extra special, but if not everyone is able or willing to do this, you can keep it simple and write out a list of generic items for kids to find during your virtual Christmas celebration. Send the list ahead of time (or share it via the screen sharing option on Zoom) and challenge participates to see who can find all of the items the fastest!
Simon Says. Kids love this game, and it's a great way to help them shed excess energy when they are cooped up inside. Have everyone stand up in an area where they have room to move around, and then lead them through different gross motor movements: 'Simon says stand on one leg', 'Simon says do 3 jumping jacks', 'Simon says hop like a bunny', etc. At some point during the game, provide a command without saying 'Simon says' first, and whomever completes the movement is out. Continue playing until you have a winner, and then appoint that person to become 'Simon' and play again!
Christmas BINGO. Thanks to the wonderful world of Pinterest, there are TONS of free printable BINGO templates you can download, and you can make it extra fun by using Christmas candy as markers each time a number is called. You can either send these to everyone ahead of time so they can print them off, or you can deliver a copy to those who live close along with a little treat bag so they have something to munch on during your virtual holiday party!
Christmas Charades. Charades is always a great way to get everyone laughing, and it's an easy option if you're looking for last minute virtual Christmas games. Write down a bunch of Christmas-themed prompts and send them to participants ahead of time so they have time to practice, and enjoy a little family fun!
Musical Statues. If you're looking for easy virtual Christmas games for younger kids that require no setup, musical statues is aways a good option. Pump some Christmas tunes, let everyone dance off some energy, and periodically stop the music and yell 'FREEZE!' and see who follows directions.
Would You Rather? 'Would You Rather' is easy to setup and suitable for every age. To play this game, all you need to do is write out a list of questions with 2 scenarios, and then read them off while everyone takes turns shouting out which scenario they prefer. You can make this easy for younger kids (Would you rather it be summer or winter? Would you rather eat cookies or cupcakes?) and more thought-provoking for the rest of the family (Would you rather be able to fly or be able to breathe under water? Would you rather travel back in time or visit the future?).
7. POP SOME CHRISTMAS CRACKERS
If Christmas crackers are a tradition in your household during the holidays, you can still enjoy them virtually with the ones you love. Make sure to remind everyone to buy a set before your big celebration, and then take turns watching everyone pull their crackers open. You can then take a screen shot of each person in their Christmas hat, and create a Christmas album for everyone to cherish for years to come!
8. ORGANIZE A REMOTE 'POTLUCK'
Food tends to be a huge part of family get-togethers, especially during important holidays like Christmas. If you're looking for virtual Christmas celebration ideas, remember that you can still eat as a family from a distance. A great way to do this is to host a remote 'potluck'! Ask everyone to make their favorite meal to enjoy together, and challenge each person to showcase their plate and share the recipe with the rest of the fam. This can be particularly enjoyable to those who live alone and are feeling sad they can't celebrate the holidays in-person with the ones they love most, and you can compile all of the recipes into a family cookbook and distribute it to everyone as a post-holiday treat!
9. SING CHRISTMAS CAROLS
A list of virtual Christmas celebration ideas wouldn't be complete without a singalong, am I right?! Ask everyone to send you the name of their favorite Christmas carol ahead of time to ensure everyone gets to enjoy their favorite song, and if you have any musicians in your family, ask if they would be interested in forming a band to make your singalong extra special.
10. ORGANIZE A SPECIAL APPEARANCE FROM SANTA
If you have little kids joining your virtual holiday celebration and one of your family members has 'connections', perhaps Santa can make a special appearance at someone's house and join in on your Zoom call? 😉
11. HOST A TALENT SHOW
My final idea for those who are looking for virtual Christmas celebration ideas is to organize a family talent show! Give everyone a few weeks of prep time so they can prepare a song, dance, or skit, and give them their 5 minutes of fame this Christmas!
If distance, sickness, and/or a global pandemic are keeping you from seeing the ones you love in person this holiday season, I hoped these virtual Christmas celebration ideas inspire you to get creative and find ways to make the season as special as can be!