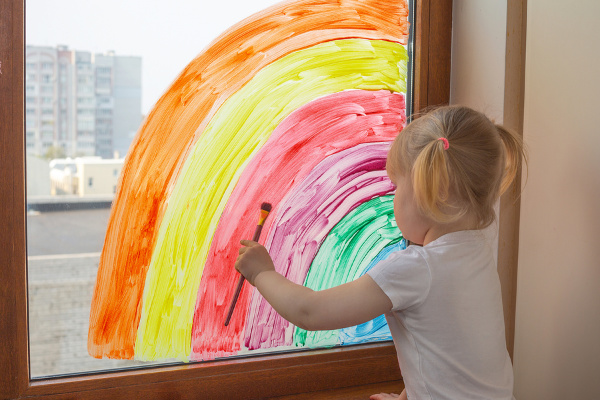 If you're looking for toddler activities to keep your little one happy and entertained on days you can't go outside, we've got you covered! Perfect for rainy days, snow days, sick days, and everything in between, this collection of indoor activities for 2 year olds includes a mix of activities you can enjoy together, independent play ideas, and learning toys, with lots of options to help young kids burn off energy when cabin fever hits.
18 Indoor Activities for 2 Year Olds
1. Create an alphabet workout
The first item on my list of indoor activities for 2 year olds was inspired by my daughter's gym teacher. She created this activity at the beginning of the 2020 pandemic when we were trying to get used to our new normal and our kids were climbing the walls, and I share it often as I think it's a great way to help kids burn energy. Her 'alphabet workout' is simply a list of different exercises assigned to every letter of the alphabet. For example:
A: 5 leg lifts
B: 5-minute plank
C: 10 jumpking jacks
…you get the idea
Using her master list, you can create different workouts using different words, like your names, the city you live in, the day of the week, etc. It's a fun way to get little ones thinking about their letters, and you can make it as simple or challenging as you want!
2. Have fun with balloons
If you're looking for indoor activities for 2 year olds that don't take a lot of time to plan or prepare, you will be amazed at how much fun balloons can be. Blow up a couple and let your younger kids hit them across the room, and if you have older children as well, grab a couple of fly swatters and challenge them to a game of balloon tennis while your younger one(s) play!
3. Decorate the windows
If you're stuck inside due to the weather, give your child some window markers and ask him or her to brighten up your view!
4. Get dimensional
Practice stacking and creating shapes using soft blocks or even plastic cups. This is a great mental and physical challenge for toddlers!
5. Make sensory bins
Sensory play is huge for this age group. Anything that stimulates your child's senses (sight, smell, taste, etc.) will help him or her develop essential sensory skills. Some favorites for 2 year olds include bins of slime they can plunge their hands into, bowls of ice cubes floating in water, or even sand they can squeeze and mold. You can also try some of these fun sensory science experiments to help squeeze in a little learning.
6. Invest in a Jumbo Nuts and Bolts Set
There are tons of great nuts and bolts sets out there to help children refine their fine motor skills and develop the muscles in their hands and fingers, but I particularly love this one as it can be used in so many other ways. Use this set to teach kids about colors, shapes, and sequencing, and create simple addition and subtraction exercises for non-stop fun!
7. Create an obstacle course
One of the challenges many parents have when it comes to setting up indoor activities for 2 year olds is that they lose interest pretty quickly, which can be frustrating. A great strategy is to combine multiple ideas together into an obstacle course. You can do this in the basement, or split it up over 2 or 3 floors of your house, requiring your child to walk up and down the stairs. It doesn't need to be anything fancy – just a combination of different movements, like following a line of masking tape, flipping pillows over, rolling an exercise ball from one end of a room to the next, etc.
8. Make your own frozen oobleck
Frozen oobleck can be made from cornstarch, water and food coloring (or without the food coloring if you don't have any on hand) and provides endless hours of melty, gooey, messy fun. Oobleck is based on the Caldecott Award winning book, Bartholomew and the Oobleck by Dr. Suess and feels like gooey playdough. If you're looking for indoor activities for 2 year olds, check out the details on Learning and Exploring Through Play. Your kids will love it!
9. Have fun with sand
This one may take a bit of prep work, but it's totally worth it. Whether you have a sandbox with buckets you can use to teach your little one how to create sculptures, or a fun inflatable sand tray filled with moon sand, your child will have an absolute blast! Playing with sand is a great sensory activity for little ones, and can be very calming – it's one of my favorite indoor activities for 2 year olds who are climbing the walls.
10. Build and create with Magformers
No list of indoor activities for 2 year olds would be complete without Magformers. You've likely already heard of this set of magnetic tiles, but for those who aren't in the know, Magformers are a great way to build a child's imagination skills through independent play. It also comes with an idea booklet to challenge little learners!
11. Play with stickers
Grab a set of fun stickers and create some original sticker art with your child. If you want to keep the activity more permanent, you can purchase some canvases and a clear coating spray to keep the stickers on.
12. Calm down with straw painting
If you're looking for indoor activities for 2 year olds with cabin fever and you need a calming activity to help them settle down, straw painting is a great activity to try as it forces kids to take deep, calming breaths. All you need to do is plop some watered down watercolor paints on a piece of paper, and then ask your child to spread the paint around by blowing air through a drinking straw. It's simple, fun, and effective in getting kids to calm down and concentrate, and you can enjoy this activity inside or outside all year long.
13. Grab a cardboard box
Toddlers can turn anything into a game! Help them use their imagination and transform a simple cardboard box into…well, anything! They can make a house, a train, an airplane, a desk, a shopping cart…the list goes on and on. You can even hand them some toddler crayons and let them decorate their new digs.
14. Play with shaving cream
Did you know that shaving cream is a great activity for sensory development? Add some toddler-safe food coloring in and let your little one play! If you are out of shaving cream, you can try hair gel for a similar effect.
15. Make toddler-friendly stained glass
This toddler family activity from Mess for Less seems so fun! The basic idea is to add contact paper on your window and let your toddler rip up tissue paper and stick to the sheet, creating a DIY tissue stained glass window.
16. Play with playdough
If you're looking for indoor activities for 2 year olds, never underestimate how much fun and calming it is to mold and create with playdough. You can grab the non-toxic playdough online along with a few sets to shake things up, or you can try this recipe for a toddler-friendly DIY version.
17. Make DIY stamps
Make DIY stamps with your toddler using plain blocks, pipe cleaners, small sticks, and popsicle sticks dipped into non-toxic paint and stamped onto construction sheets. It's super fun and easy to set-up!
18. Get sensory with water beads
My final idea for those who are looking for indoor activities for 2 year olds is to invest in water beads. They are fun and squishy and a great sensory activity. You can even hide plastic animals in the water beads for your toddler to search for and practice animal names. Just be extra vigilant with this one as water beads are a choking hazard.
I hope this collection of indoor activities for 2 year olds helps you and your kids stay sane when you're stuck inside!