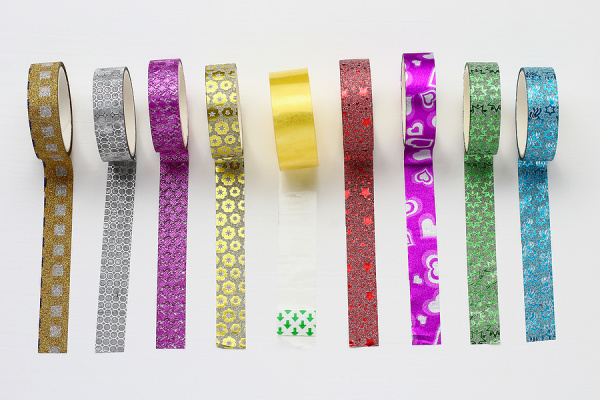 If you're looking for creative art projects you can enjoy with your children after school and on weekends, these washi tape crafts for kids will not disappoint!
Made from traditional Japanese paper, washi tape is a decorative adhesive tape used in crafting, journalling, and scrapbooking. It is durable, flexible, easy to tear, and waterproof, making it a trendy crafting staple among kids and adults alike. Washi tape is also easy to write on, easily peels off of surfaces and materials, and doesn't leave a sticky residue behind. It offers a simple way to add a little flare and personality to projects, journal entries, and gift wrapping, and comes in many different widths, colors, textures, and patterns.
From suncatchers and greeting cards, to personalized pencils and notebooks, to desk organizers and photo frames, these washi tape crafts for kids make the perfect DIY gifts and keepsakes for family and friends.
5 Tips for Crafting with Washi Tape
1. Not all washi tapes are created equal. When shopping for washi tape, make sure to read customer reviews. You want to choose something that doesn't stick too quickly when placed on surfaces and materials, and you also want to find a washi tape that doesn't tear easily (i.e. when you're unrolling it). Look for a washi tape that has a high rating (I love this one!) and read about other peoples experiences before investing.
2. Practice on parchment paper. Since washi tape can be easily peeled off of materials and surfaces before being stuck somewhere else, practicing on parchment paper first will allow you to play around with your design and get it just right before transferring it to paper.
3. Don't apply it over inks and paints. While washi tape can be removed and reused without leaving behind any residue, it can lift inks and paints off of materials and surfaces, so be careful.
4. Keep your washi tape organized. As you get serious about the washi tape crafts for kids below, you will start accumulating washi tape in many different colors, patterns, and sizes. You can easily store them together in a box with separate organizers like this one, or you can purchase a few washi tape dispensers for easy access and use.
5. Create fun designs with decorative hole punches. Don't be afraid to step up your designs a little bit by creating fun stars, hearts, and circles with this set of 3 hole punches!
14 Washi Tape Crafts for Kids
Washi Tape Bracelets | Art Bar
Washi Tape Butterfly Craft | Artsy Momma
Washi Tape Heart Suncatchers | Kids Craft Room
Washi Tape Feather Topped Pen | Crafting Chicks
Washi Tape Rain Sticks | In The Playroom
Washi Tape Flower Cards | Glued To My Crafts
Washi Tape Mini Lid Banjos | The Craft Train
Washi Tape Cereal Box Organizers | One Good Thing
Washi Tape Flowers | DIY Candy
Washi Tape Pencils and Notebooks | DIY Inspired
Washi Tape Desk Cup | Happiness is Homemade
Washi Tape Frame | Bombshell Bling
Washi Tape Mini Plant Pots | Projects with Kids
Washi Tape Upcycled Mint Tins | DIY Candy
Whether you're a crafting novice or scrapbooking superstar, I hope this collection of washi tape crafts for kids inspires you to enjoy quality time with your children while you create together!