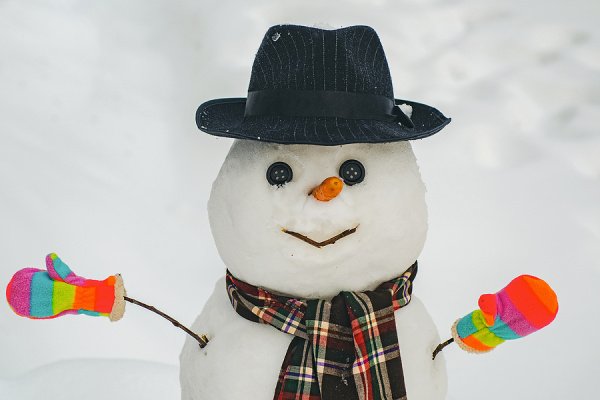 If you're looking for outdoor snow day activities for kids, we've got you covered!
While it can be tempting to sit in front of the fire all day when the weather is cold and snowy, anyone with young kids knows that being cooped up inside for hours on end can be a recipe for disaster. Children need an outlet to let off some steam, and getting out into the fresh air and soaking up some vitamin D will be good for you, too.
RELATED: 22 Indoor Snow Day Activities for Kids
Whether you have toddlers, kids in preschool or kindergarten, or children in elementary school, we're sharing lots of easy ways you can get outside and have fun with your little ones on wintery weather days. And for those who hate the cold weather as much as we do, we've also included a few independent activities to keep your kids occupied while you enjoy a hot cup of cocoa inside.
14 Outdoor Snow Day Activities for Kids
1. Nature-inspired scavenger hunt
If you're looking for outdoor snow day activities for kids, one of the easiest things you can do is create a scavenger hunt. We've written an entire post on indoor and outdoor scavenger hunts for kids, but if you're looking for something quick and easy to organize when your little one is climbing the walls, write out a list of specific things for him or her to find while you're outdoors. For example, your list could include the following:
A snowy tree
The sun
A cloud
An icicle
A pinecone
Animal tracks
Boot prints
A bird
A snowman
Write your list on a piece of paper, attach it to a clip board, and give your little one a marker so he or she can cross the items off their list as they find them.
2. 'I Spy' walk
If you're looking for fun outdoor snow day activities for kids you can enjoy together as a family, get everyone bundled up for a walk around the neighborhood while playing the game 'I Spy'. Take turns describing the things you see to one another to help your child exercise his or her descriptive language and cognitive skills while also stretching your legs, burning some energy, and enjoying the beauty of the freshly fallen snow.

3. Snow painting
If you're in need of independent snow day activities for kids, snow painting is a great option to try. All you need to do is fill up a few spray bottles with water, add a little food coloring to each, and let your kids express themselves by decorating the snow!
4. Winter obstacle course
Obstacle courses are one of my favorite things to do at home with kids because they are easy to setup, and you can create indoor and outdoor options to get kids moving. You can make fancy obstacle courses, or you can do what I do and just set up different areas for different activities. If you're looking for outdoor snow day activities for kids, make an obstacle course that includes things like:
Making snow angels
Throwing snow balls at a tree (or through a hula hoop)
Jumping up and down for 60 seconds
Making snow castles using a bucket
Dragging a sled from one end of the backyard to another
5. Make 'snowcastles'
If you're looking for snow activities your kids can enjoy independently while you shovel (or enjoy a warm cup of cocoa inside), grab some sand toys and let them build snow castles. Add plastic animals, mini figurines, and toy cars and your little ones can create an entire world out of snow!
6. Get creative with your snowman making skills
If you're looking for outdoor snow day activities for kids, I realize that you're looking for ideas that go above and beyond making a snowman, but there are so many ways you can make this activity extra fun:
Challenge your kids to make an upside down snowman
Give your kids some old clothes so they can dress their snowman up in different outfits
Add different colors of food coloring to spray bottles and let your kids spray their snowman in different colors
Make a snowman in the shape of something else (an animal, his or her favorite TV character, etc.)
7. Dig for treasure
Another fun way to keep kids active this winter is to organize a dig in your backyard. Section off a specific area, and then hide a collection of small items under the snow for your little one to find. I usually use plastic eggs for this activity as they are easy to spot, and I don't mind them getting wet and dirty!
8. Beach ball fun
If you're looking for simple winter activities for kids that don't require a ton of setup, blow up a few beach balls, toss them into the air, and see how long everyone can keep them airborne! This is a great great activity to burn off energy when cabin fever sets in, and it can be enjoyed independently or as a family.
9. Play frisbee
A little cold weather and snow doesn't mean you have to put away all of the backyard games you enjoy in the warm weather months. Frisbee is the perfect activity to enjoy outdoors with your kids, allowing you to burn off some steam while also spending quality time together.
10. Blow frozen bubbles!
We blow a lot of bubbles in the summer months, and last winter we tried blowing FROZEN bubbles, and it was a lot of fun. We first experimented with store-bought bubbles, but had no success, and after doing a quick search on Pinterest, I found an easy recipe for frozen bubbles that works every single time. I have no idea where I originally found the recipe, so I can't give appropriate credit for it here, but it seems this is the recipe most people use, so give it a try!
1 ½ cups water
½ cup dish soap
¼ cup corn syrup
11. Nature BINGO
If you're looking for outdoor activities for kids that can be enjoyed as a family and/or amongst siblings, BINGO is always a fun idea. Teachers Pay Teachers has a collection of 30 winter-themed BINGO cards, giving you tons of options to get outside on bad weather days!
12. Erupting snow volcanos
Science experiments are a great way to have fun both indoors and outdoors during the cold weather months. Erupting volcanoes are one of my favorites as you can make them as big or small as you want, and they are super easy to make. We did these with apples when my daughter was little, but last year we made snow volcanoes in the backyard and they were a hit! All I did was add a few scoops of baking soda, dish soap, and food coloring to a plastic water bottle, and then my daughter and I built a snow volcano around it, ensuring the top of the water bottle was unobstructed and positioned at the top. Once we were ready, we poured vinegar into the top of the water bottle and watched as our snow volcano 'erupted'. It was so much fun and we can't wait to do it again this year!
13. Household chores
There are lots of mundane household tasks that can be turned into fabulous snow day activities for kids. Shovelling the driveway, salting the sidewalks, clearing snow off your car, etc., are all great ways to get your kids to help out while also getting some fresh air and exercise. And if you do these tasks as a team, it allows you to spend quality time together while still knocking things off your never-ending 'to do' list.
14. Help a neighbor
While we're talking about shovelling and salting, encourage your kids to help neighbors who are elderly or unable to clear snow from their driveway or car due to an injury or disability. These random acts of kindness will go a long way in teaching them to help others in need.
I hope this collection of outdoor snow day activities for kids inspires you to get outside and have some fun with your little ones this winter!