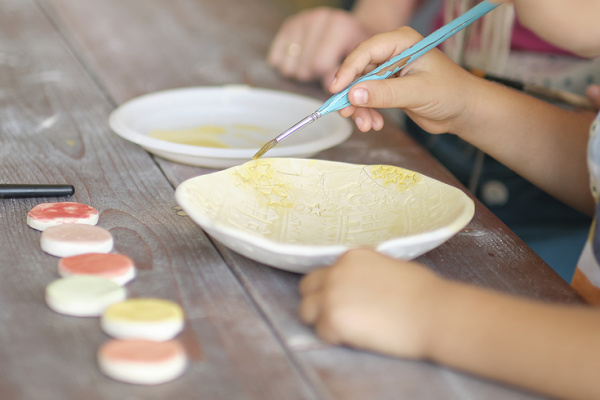 Whether you're looking for fuss-free crafts you can enjoy with your kids after school and on weekends, or on the hunt for DIY art projects that double as keepsakes and gifts for family and friends, this collection of air dry clay projects will not disappoint. From pinch pots and trinket dishes, to coasters and keychains, to photo holders and magnets, there are so many things you can make with air dry clay without all the kneading and baking required for typical clay crafts. Can't find air dry clay at your local craft store? No worries! We've also included a simple DIY recipe you can make using only 3 ingredients!
What Is Air Dry Clay?
While traditional clays need to be fired at a high temperature in a kiln or cooked in an oven, air dry clay hardens and cures at room temperature. No heating is required, and you don't need to worry about your creation cracking or exploding due to air bubbles as it cooks. Crayola sells packaged air dry clay, and there are lots of easy-to-make homemade recipes you can try as well (see below for our favorite!).
How to Make Homemade Air Dry Clay
If you want to make your own air dry clay, it's incredibly easy and you only need 3 ingredients:
1 cups of baking soda
1 cup cornstarch 
1 1/2 cups water
Once you have your ingredients handy, follow these directions to make your very own air dry clay!
Combine the baking soda and cornstarch in a saucepan, making sure to mix well.
Add water to the mixture and stir until everything is combined and there are no dry spots.
Turn your burner on to low-medium heat and stir the mixture until it forms a ball, which can take up to 10 minutes.
Turn off the burner and continue stirring until the mixture resembles more of a clay-like consistency.
Remove the mixture from the pot and place it on a countertop or large cutting board that has been lightly dusted with cornstarch.
Knead the dough until it cools. Add additional cornstarch as needed to make the clay less sticky and more firm so that it's easier to manipulate.
Keep in mind that as the clay cools and dries, it will become less sticky.
Air Dry Clay Project Supplies
Before you dig into the air dry clay projects for kids below, you may want to invest in a few supplies to help your little one bring their creations to life. Here are some of our favorites!
Rolling pin
Textured rolling pins
Sculpting and shaping tools
Number and alphabet stamps
Rubber stampers
Paint brushes
Acrylic paints
17 Air Dry Clay Projects for Kids
Whether you're using store bought air dry clay, or trying the homemade recipe above, here are our favorite air dry clay projects for kids that double as meaningful gifts and keepsakes!
Air Dry Clay Sunflower Bowls | Emma Owl
Purrfectly Cute Air Dry Cats | Nurture Store
Pinch Pot Snow Person | Make It Your Own
Kids Hand Ceramic Dish | My Poppet Makes
Easter Egg Pinch Pots | Red Ted Art
Air Dry Clay Texture Bead Pendant | The Kitchen Table Classroom
Air Dry Clay Keychains | Average But Inspired
Air Dry Clay Mini Pots | Journey Into Creativity
Clay Unicorn Magnets | Glued To My Crafts
Mini Clay Halloween Pumpkins | Sculpd
DIY Air Dry Clay Wall Hanging | Kara Madeline
Clay Mountain Photo Holder | Doodle & Stitch
Air Dry Clay Ornaments | Little Yellow Wheelbarrow
Whale Phone Holder | Doodle & Stitch
Mandala Trinket Dish | Colorful Craft Corner
Air Dry Clay Snails | Hobby Craft
Air Dry Clay Tiles | Polymer Clay
I hope you and your little one enjoys this collection of air dry clay projects!