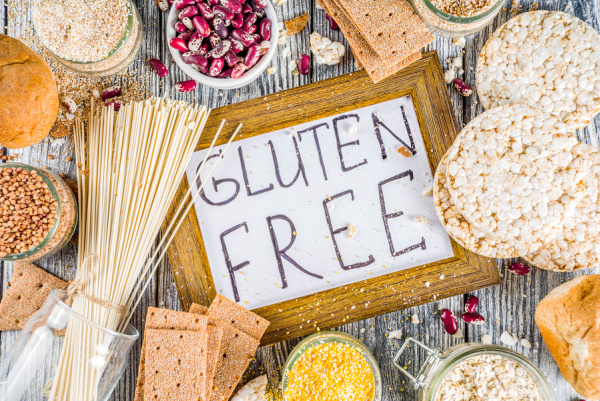 Whether you're a celiac disease newbie in need of a little background information and a list of foods to eat and avoid, or an old-timer looking for new gluten-free recipes to try, this post will not disappoint! We've outlined the signs and causes of celiac disease, provided a list of foods to eat and avoid to help alleviate symptoms and promote healing of the small intestines, and compiled tons of delicious recipes to help you create your own celiac disease diet that satisfies your food cravings and preferences so you don't feel like you're missing out!
What Is Celiac Disease?
When someone has celiac disease, eating gluten (a protein found in wheat, barley, and rye) causes an immune response in their small intestines. This immune reaction causes damage to the lining of the small intestines over time, causing diarrhea, bloating, weight loss, fatigue, and anemia. Untreated celiac disease can also prevent the small intestine from absorbing nutrients, which can interfere with growth and development in children. In adults, malabsorption can lead to loss of bone density, infertility problems, miscarriage, and more serious conditions like coronary artery disease, certain cancers, and other autoimmune disorders such as multiple sclerosis and type 1 diabetes. There is currently no cure for celiac disease, but following a gluten-free diet can help alleviate symptoms and promote healing of the small intestines.
What Are the Signs and Symptoms of Celiac Disease?
It is estimated that 1 in 100 people have celiac disease (source) but many go undiagnosed since the symptoms can be so varied and the damage to the small intestines can happen slowly over a long period of time. It can sometimes take years to get a proper diagnosis, with many people never finding out they have celiac disease.
It's also important to note that while the symptoms of a gluten intolerance/sensitivity are similar to celiac disease and also improve with a gluten-free diet, the 2 conditions are different in that a gluten intolerance/sensitivity doesn't cause an immune response and doesn't damage the small intestines.
If you suspect you or someone you love has celiac disease, here are some of the common signs and symptoms in children and adults.
Symptoms of celiac disease in children:
Bloating/swollen belly
Diarrhea
Constipation
Foul-smelling faces that's pale in color
Upset stomach
Nausea/vomiting
Weight loss
Anemia
Damage to tooth enamel
Delayed growth
Delayed puberty
Learning disabilities (i.e. ADHD)
Changes in mood
Symptoms of celiac disease in adults:
Abdominal pain
Bloating/feeling of fullness
Gas
Diarrhea
Constipation
Heartburn
Nausea
Headache
Fatigue
Weight loss
Anemia
Mouth ulcers
Itchy/blistery rash
What Causes Celiac Disease?
Celiac disease can develop at any age, and while the exact cause of celiac disease is unknown, it runs in families. Having a first-degree relative (parent, child, or sibling) with celiac disease increases your risk of developing celiac disease. You may also develop celiac disease if you have another autoimmune disease or genetic disorder such as lupus, rheumatoid arthritis, type 1 diabetes, thyroid disease, Addison's disease, Sjogren's syndrome, Down syndrome, etc.
What Is The Celiac Disease Diet?
Also known as a 'gluten-free diet', the celiac disease diet requires you to remove gluten from your diet completely. If you have celiac disease, ingesting even small amounts of gluten can damage your intestines, even if you don't display symptoms. Following the celiac disease diet helps reduce the symptoms of celiac disease, allows the small intestines to heal, improves the absorption of nutrients, and can offer other, long-term benefits like improving your fertility and lowering your risk for more serious conditions like coronary artery disease, certain cancers, and other autoimmune disorders.
13 Types of Food to Avoid on the Celiac Disease Diet
Getting started on the celiac disease diet can feel very overwhelming, and as you learn more about celiac disease and how to read food labels, you will likely be surprised to find that gluten is in a lot of prepared foods, beverages, and condiments. If you want to know which kinds of foods to avoid on the celiac disease diet, see below for a list of broad food types, with examples of each.
All foods containing gluten including wheat, barley, rye, triticale, spelt, farro, farina, kamut, khorasan wheat, semolina, durum, wheat berries, and couscous. While oats are naturally gluten-free, make sure to check the labels to ensure there is no risk that gluten is added during processing
Breads, crackers, wraps, cereals, pastas, and baked goods, unless the label specifically states the product is gluten-free and no gluten products are listed in the ingredients
Snack foods like granola, cereal, and energy bars, chips and pretzels, candy bars and snack mixes often contain gluten
Processed foods like deli meats and processed cheese, veggie burgers, canned soups and soup mixes, and fried foods (including some French fries)
Processed and flavoured diary products like flavored yogurts, cheese spreads, cheese sauces, and certain ice creams
Canned, frozen, dried, and pre-chopped fruits and vegetables
Soups and frozen meals
Condiments like soy sauce, barbecue sauce, ketchup, marinades, spices, and certain salad dressings typically have gluten added to them
Cooking sprays and flavored oils
Flavored beverages like chocolate milk, drink mixes, and wine coolers
Beer
Other pre-packaged foods like pudding and dessert mixes (cakes, cupcakes, etc.)
Some medications, vitamins, and supplements 
11 Types of Food to Eat on the Celiac Disease Diet
If you or someone you love has recently been diagnosed with celiac disease, reading about all of the things have you to avoid on the celiac disease diet can be pretty overwhelming, not to mention upsetting. While it may initially seem like you have to give up everything you enjoy, rest assured that there are lots of foods you can eat, and many grocery stores contain gluten-free breads, pastas, cookies, crackers, and other baked goods. Just be careful to read all food labels closely. Even if a box of cookies has 'gluten-free' stamped on the front, it's always better to be safe than sorry and double check that there aren't any gluten products on the list, and that the item wasn't manufactured in a plant that could potentially be contaminated with gluten.
If you want to know which foods to eat on the celiac disease diet, the list below will help you understand which types of foods and food groups to choose from.
Fresh fruits and vegetables
Legumes
Nuts, nut butters, and seeds
Healthy fats and oils 
Gluten-free whole grains, including, but not limited to quinoa, brown and wild rice, buckwheat, arrowroot, tapioca, and oats
Meat, poultry, and fish that has not been processed, marinaded, and/or breaded
Gluten-free dairy, including, but not limited to milk, cream, butter, ghee, cheese, yogurt, sour cream, and cottage cheese
Gluten-free breads, crackers, wraps, cereals, pastas, and baked goods
Unflavored coffees and teas
100% fruit and vegetable juices
Gluten-free beer, unflavoured wine, and distilled alcohol
48 Celiac Disease Diet Recipes We Love
12 Celiac Disease Diet Breakfasts
Gluten-Free Breakfast Casserole | Gluten-Free Palate
Gluten-Free Blueberry Scones | Kristy Still of Mommy Hates Cooking
Gluten-Free Cinnamon Rolls | 40 Aprons
Egg & Potato Breakfast Muffins | Raia's Recipes
Fluffy Gluten-Free Pancakes | MOMables
Gluten-Free Peanut Butter Muffins | Mile High Mitts
Gluten-Free Baked French Toast | A Radiantly Healthy Life
Vegan Banana Oatmeal Breakfast Cookies | beaming baker
Apple Cinnamon Baked Oatmeal Squares | My Gluten-Free Kitchen
Cinnamon Apple Breakfast Quinoa | simply quinoa
Eggs Benedict Casserole | Mama Knows Gluten Free
Sweet Potato Baked Oatmeal | Eating Bird Food
12 Celiac Disease Diet Lunches
Hummus Vegetable Wraps | Emilie Eats
Avocado Tuna Salad | Cook Eat Paleo
Stuffed Potato Cakes | Ela Vegan
Gluten Free Veggie Sandwich | The Healthy Apple
Baked Paleo Chicken Fingers with Honey Mustard Dipping Sauce | Allergy Free Alaska
Crispy Chicken Strips | Stay at Home Mum
Gluten Free Instant Noodle Cups | Gluten Free on a Shoestring
Prosciutto and Egg Roll-Ups | Nom Nom Paleo
Gluten and Dairy Free Pizza Twists | Angela's Kitchen
Gluten Free Instant Noodle Cups | Gluten Free on a Shoestring
Sandwiches on a Stick | Ingredients Inc.
Gluten Free Pizza Bombs | Petite Allergy Treats
RELATED: 100 

Family-Friendly Gluten-Free Recipes!
12 Celiac Disease Diet Dinners
Grilled Chicken and Veggie Bowls | Picky Palate
Gluten-Free Chinese Honey Chicken | Whitney Bond
Spaghetti Squash Taco Bake | Bless Her Heart Ya'll
Vegan Lentil Enchiladas | Ela Vegan
Gluten Free Meatballs | Planning with Kids
Gluten Free Calzones | Frugal Farm Wife
Easy Gluten-Free Chicken Pot Pie | Happy Mothering
Easy Vegan Burrito Bowls | Veggie Balance
Taco Mac | Maebells
Gluten-Free Vegan Pad Thai | Earth of Maria
Gluten-Free Chicken Marsala | The Roasted Root
Zucchini Lasagna Roll-Ups | Evolving Table
12 Celiac Disease Diet Snacks and Desserts
Homemade Fruit by the Foot | Against All Grain
Coconut Almond Chewy Bars | Sandi's Allergy Free Recipes
Gluten-Free Pretzel Bites | A Few Shortcuts
Peanut Butter Quinoa Chia Bars | Greeny Sherry
Mini Gluten-Free Cheesecakes | Mama Knows Gluten Free
Best Ever Flourless Brownies | Unicorns in the Kitchen
Gluten-Free Chocolate Chip Cookies | Nutrition to Fit
Chocolate Truffle Tart | DOWNSHIFTOLOGY
Healthy Peanut Butter Balls | Texanerin Baking
Gluten-Free Vanilla Cake Donuts | Gluten-Free Palate
Gluten-Free Banana Bread with Chocolate Chips | Seasonal Cravings
Paleo S'mores Bars | A Clean Bake
I hope the information in this post, along with the celiac disease diet recipes we curated prove useful to you!