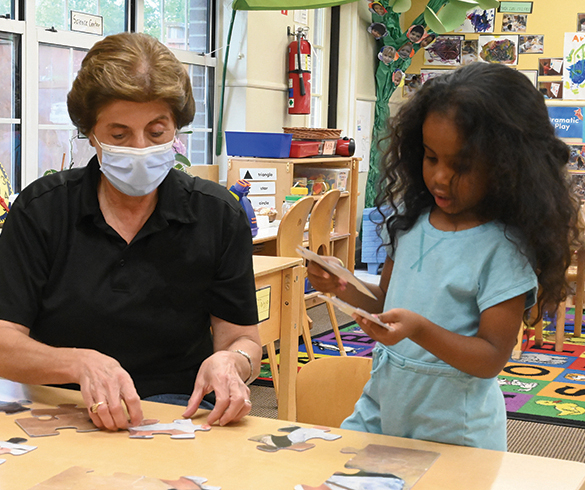 Lessons from Expert Educators

Tips from experienced teachers for new and aspiring educators
Each school year offers exciting opportunities for little learners to discover and explore new topics, make friends and master new skills. While much of the focus is on families during the back-to-school season, it's also an important time for educators, especially those who are working with young children or are just starting their careers.
These tips from award-winning and long-term educators at KinderCare can help new and aspiring teachers prepare for a successful start to the school year and their careers.
Communication is Key
Making time to connect with families gives teachers opportunities to build bonds, which is essential for success. Communicating and understanding their unique needs shows you have their children's best interests at heart. By regularly sharing stories and observations about each child's progress, teachers can also provide families with a sense of reassurance their children are being recognized and cared for as the unique people they are.
Never Give Up on a Child
Each child faces unique hurdles as he or she climbs the educational ladder, with some facing more challenges than others. While at times it can be frustrating to tailor lesson plans to meet each child's individual needs, Joan Coberg, a teacher of 40 years, recommends one important trait: patience.
"The best advice I would give is to never give up on a child," Coberg said. "Have lots of patience. Always lead with love and kindness; be respectful. When I first started my career at KinderCare 40 years ago, I was learning, too. As teachers, we also learn from the children."
Set Boundaries for Success
Similar to open lines of communication with families, getting to know your students individually can help build relationships necessary for a successful school year. Jami Vandegrift, a prekindergarten teacher and 2018 KinderCare Teacher of the Year, said this helps build mutual respect between teacher and student.
"As you build relationships, you will start to establish boundaries and routines," Vandegrift said. "Once you feel comfortable with the kids and the room, you can start bringing in the curriculum. Starting as a new teacher, I always thought I had to do it all at once. I've learned over time to start small and build each week on something new."
Be Willing to Change
Consistency and structure within the classroom setting are important for establishing routines, but it's also helpful to have an open mind and to stop an activity when children lose interest. Be observant, flexible and willing to rethink schedules, classroom arrangements, transitions and more. Stopping to observe and ensure students are engaged can help promote success as many children learn best when fueled by personal interests.
Let Children Choose Their Paths and Recognize Accomplishments
School days often include activity time when students can explore interests like art, music, physical activity and more. When it's time for activities, try letting children choose what they'd like to do first. This can help foster independence while easing transitions, according to Hattie Mae Covington, a toddler teacher of 45 years. It also opens the door for teachers to cheer on their students for succeeding in activities of their choosing.
"Kids, especially young children, love to be recognized and rewarded for doing good work," Covington said. "High fives and smiley face stickers go a long way toward encouraging them and helping them be successful. Celebrating students for their accomplishments can be a meaningful way to create bonds that support their ongoing interest in learning."    
Find more experts' advice to set new teachers up for success at kindercare.com.
Source:
KinderCare