Stuck with Thanksgiving leftovers? Instead of making yet ​another​ turkey sandwich, try this Thanksgiving dinner casserole. With layers of stuffing, mashed potatoes, veggies and turkey, every bite will taste just like the holiday. You can even make this instead of a traditional dinner, especially if you're looking to save room at the dinner table.
Video of the Day
Things You'll Need
4 cups cooked turkey, shredded

1 small white onion, diced

1 teaspoon jarred minced garlic (or 3 fresh cloves, minced)

3 cups mixed vegetables, canned or frozen

3 cups leftover mashed potatoes

3 cups leftover stuffing

2 cups leftover gravy, plus extra for topping

1/3 cup fresh sage, chopped

Salt

Ground black pepper

Oil or butter
Tip
Since this recipe relies on leftovers, you may have more or less ingredients than listed. Feel free to adjust based on what you have on hand. For example, if you have a lot of leftover mashed potatoes, add an extra layer to the bottom of the dish.
Step 1
Preheat the oven to 400°F. Grease a casserole dish and set aside.
In a large skillet, warm about 1 tablespoon oil or butter. Add the onions and cook for 5 to 7 minutes, or until tender. Add the garlic and cook for 30 seconds.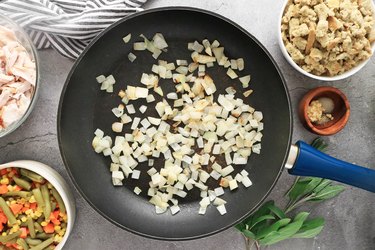 Step 2
Add the mixed vegetables, salt, pepper and chopped sage. Cook for 2 to 3 minutes. If using frozen vegetables, cook until thawed and heated through.
Tip
Feel free to swap the sage for another herb, like parsley or rosemary. You can also use a combination of your favorite herbs.
Step 3
Add the turkey and gravy. Cook for another minute, stirring until fully combined.
Step 4
Transfer the turkey mixture to the greased casserole dish, spreading into an even layer.
Step 5
Add the mashed potatoes and spread into an even layer.
Step 6
Add the stuffing on top. Garnish with more chopped herbs, if you'd like.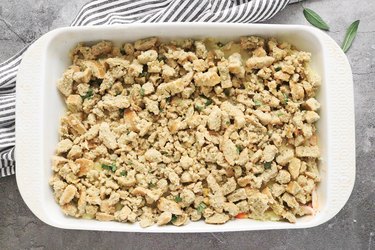 Step 7
Bake for 20 to 25 minutes, or until the stuffing is golden brown. Serve with additional gravy.