Chicken satay with peanut sauce is a classic street food in Thailand. But thanks to this easy recipe, you can make it in the comfort of your own kitchen. Marinated in coconut milk, soy sauce and a medley of spices, this chicken satay is bursting with flavor. The peanut sauce is just as tasty—it's creamy and savory-sweet, with a hint of heat from chili paste. And while there are many ways to make Thai chicken satay, here's one of our favorite versions.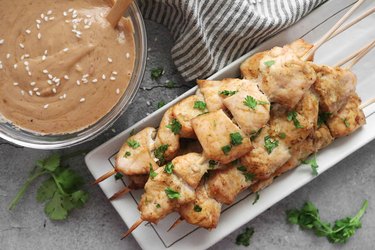 Video of the Day
Thai Chicken Satay
Things You'll Need
1 pound boneless and skinless chicken breast, diced into bite-sized pieces

2 tablespoons canned coconut milk

1 1/2 teaspoons jarred minced garlic (or 3 fresh cloves, minced)

1/4 teaspoon ground ginger

2 teaspoons curry powder

3 tablespoons low-sodium soy sauce

1 tablespoon brown sugar

Jasmine rice (optional)

Fresh cilantro, chopped (optional)
Tip
To make this recipe gluten-free, use tamari instead of soy sauce.
Step 1
In a small bowl, combine the coconut milk, garlic, ginger, curry, soy sauce and brown sugar. Whisk well.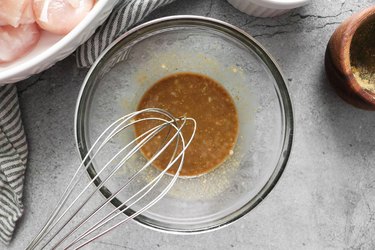 Step 2
Place the chicken in a container or bowl. Add the marinade and cover. Let sit in the refrigerator for at least 2 hours or overnight, if possible. Flip the chicken occasionally to make sure each piece soaks up the marinade.
Step 3
Just before it's time to cook the chicken, soak the skewers in warm water for 20 minutes. This will keep them from burning.
Preheat the oven to 425°F. Thread the chicken onto the skewers, leaving a few inches of free space at the bottom. Place the skewers on a metal cooling rack on top of a baking sheet. (You can also place the ends of the skewers on the edges of the sheet, depending on its size.) Brush the chicken with the remaining marinade.
Step 4
Roast for 15 to 20 minutes or until golden brown.
Tip
You can also cook the chicken on a grill. If using a charcoal grill, heat for 10 minutes until hot. If using a gas grill, heat on high for 15 to 20 minutes. Brush the grate with oil. Once hot, cook the chicken for 3 minutes on each side, or until brown and slightly charred.
Peanut Sauce
Things You'll Need
1/2 cup creamy peanut butter

1/3 cup canned coconut milk

1 tablespoon sesame oil

2 tablespoons low-sodium soy sauce

1 tablespoon apple cider vinegar or rice vinegar

1 1/2 teaspoons jarred minced garlic (or 3 fresh cloves, minced)

2 tablespoons brown sugar

1 teaspoon ground ginger

1 teaspoon salt

3 to 4 tablespoons water

1/2 teaspoon chili paste or chili flakes (optional)
Step 1
In a small pan over low heat, combine the peanut butter, coconut milk, sesame oil, soy sauce, vinegar, garlic, ginger powder, brown sugar and salt. Add the chili paste or flakes, if using.
Step 2
Heat until warm and combined, about 5 to 10 minutes, whisking constantly. Make sure the mixture doesn't come to a boil.
If needed, add water to thin, one tablespoon at a time. Keep adding water and whisking until it reaches your desired consistency. Taste and adjust by adding extra spices, if necessary.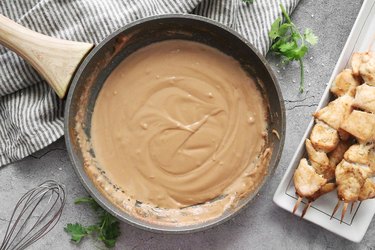 Serve with the chicken and jasmine rice. Garnish with chopped fresh cilantro, sesame seeds or chili flakes.