Want a super simple weeknight dinner that only takes a handful of minutes to pull off? Sure you do! I have just the thing. This spicy, full flavored shrimp dish is perfect to pull together when you don't have much time, and it delivers a satisfying plate of food that also provides delicious leftovers.
Video of the Day
Things You'll Need
1 tablespoon olive oil

1 red bell pepper, seeded and diced

4 cloves garlic, minced

2 (14.5oz) cans diced tomatoes with green chilies

1 lb raw shrimp, shelled and deveined

1 teaspoon smoked paprika

1 teaspoon chili powder

1 teaspoon garlic powder

1 teaspoon onion powder

1 tablespoon red chili flakes

1 lb pasta, cooked according to package directions

Parsley, minced (for garnish)
Step 1
Heat the olive oil in a pan over medium high heat. Add the bell pepper, cooking until softened and starting to caramelize. Stir in the garlic.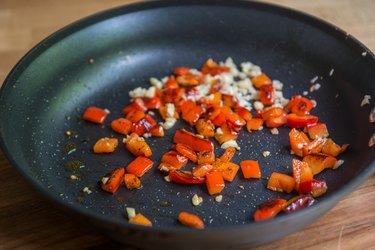 Step 2
Add the shrimp, cooking until just starting to pink.
Step 3
Stir in the remaining ingredients (except the pasta and parsley), cooking until shrimp is cooked through and sauce is slightly thickened.
Step 4
Garnish with parsley, serve and enjoy!