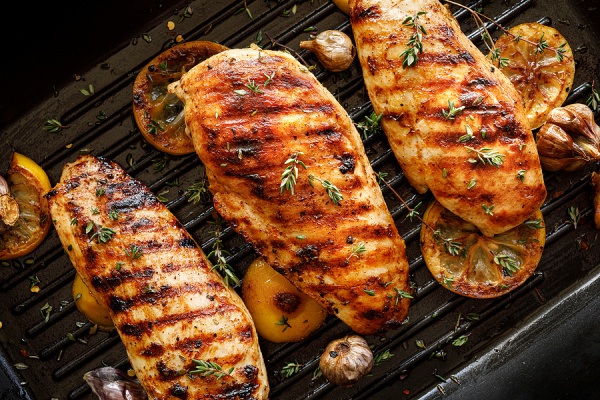 When it comes to weight loss, chicken breast is a staple for creating meals that keep you feeling full and satiated. Skinless chicken breast is a good source of lean protein, which is essential for building and maintaining muscle. Chicken breast is low in calories and fat, and since it contains no sugar or starch, it has no carbohydrates, making it a macro-friendly option for health enthusiasts. If you're looking for upgraded chicken breast recipes to help you create delicious and filling meals that support your weight loss goals, this post has tons of ideas to inspire you!
6 Simple Ways to Upgrade Boring Chicken Breast
1. SOAK IT IN A MARINADE
A simple way to upgrade boring chicken breast is to infuse it with flavor via a marinade. Make your favorite marinade and store it in a large ziplock bag, and then add your defrosted chicken the following morning so everything is ready to be cooked when you get home from work.
Here are 3 of our favorite healthy chicken marinades to inspire you:
Mexican Chicken Marinade | Little Sunny Kitchen
Cilantro Lime Chicken | delish
Lemon Chicken Marinade | fit foodie finds
2. TRY A DRY RUB
If a marinade sounds too messy and time-consuming for you to deal with first thing in the morning, a dry rub is a great alternative as you can prepare this the night before. All you have to do is mix together your favorite spices, rub it onto your chicken breast, and allow to sit for up to 24 hours.
If you're looking for simple dry rub recipes for chicken, Joyful Healthy Eats shares 5 easy recipes HERE.
3. STUFF IT
There are tons of stuffed chicken breast recipes you can enjoy while following a clean eating diet, and we've curated some of our favorites below!
4. TOP WITH A GLAZE OR PAIR WITH A DIPPING SAUCE
Add a glaze to your chicken breast while it's cooking, or prepare a dipping sauce to serve on the side to take your boring chicken breast to the next level. You can buy a lot of prepared glazes and sauces at your grocery store, or do a quick search online for healthy options that will compliment your dish without throwing you too far off your macro goals.
5. BREAD IT
While you may want to avoid traditional breaded chicken breast recipes if weight loss is your goal, crushed corn flakes are a great breadcrumb alternative, adding a sweetness to your meal the whole family will love! This is a great option for those who follow a gluten-free diet, however be careful to read your cereal labels as the more popular, well-known corn flake brands typically use additives that aren't safe for people who are gluten intolerant.
6. COOK IT IN AN INSTANT POT
If you're a fan of one pot meals, investing in an instant pot will be life-changing for you! An instant pot is a multi-cooker that takes on the job of pressure cooking, slow cooking, rice cooking, steaming, and more, allowing you to create entire meals in one pot. Check out some of our favorite instant pot chicken breast recipes below!
8 Easy Chicken Breast Recipes
Best Ever Oven Baked Chicken Breast Recipe | ifoodreal
Honey Mustard Chicken | Healthy Fitness Meals
Baked Balsamic Chicken Breast | Coking LSL
Low Carb Parmesan Crusted Chicken | The Flavours of Kitchen
Easy Lemon Herb Baked Chicken Breast | The Stay At Home Chef
Honey Garlic Chicken | The Petite Chef
Oven Baked Chicken Parmesan | Fox and Briar
Greek Chicken Marinade | Gimme Some Grilling
8 Stuffed Chicken Breast Recipes
Spinach Stuffed Chicken | Uptownblog
Easy Asparagus Stuffed Chicken Breast | Healthy Fitness Meals
Caramelized Onion Mushroom Stuffed Chicken | Whole and Heavenly Oven
Artichoke Spinach Stuffed Chicken | Sunkissed Kitchen
Caprese Stuffed Chicken Breast | TASTEMADE
Keto Pizza Stuffed Chicken | Low Carb Spark
Stuffed Chicken Marsala | Creme De La Crumb
Buffalo Orange Stuffed Chicken | That Low Carb Life
8 Instant Pot Chicken Breast Recipes
Instant Pot Frozen Chicken Breasts | The Slow Roasted Italian
Instant Pot Teriyaki Chicken | Sweet Peas and Saffron
Instant Pot Chicken and Rice | ifoodreal
Low Carb Instant Pot Chicken Curry | Piping Pot Curry
Instant Pot Honey Garlic Chicken | The Flavours of Kitchen
Chinese Chicken and Broccoli | Foodies Terminal
Instant Pot Chicken Carnitas | A Saucy Kitchen
Instant Pot Chicken Piccata | Happy Foods Tube
I hope these chicken breast recipes inspire you to ditch your plain baked chicken and create delicious, protein-rich meals to support your weight loss goals.