This sheet pan beef and broccoli is a healthier alternative to takeout. Not only is it baked instead of fried, but it features a homemade marinade too. Simply combine the sauce ingreidents, marinate the beef and broccoli and bake! Serve with rice or noodles for a tasty weeknight meal.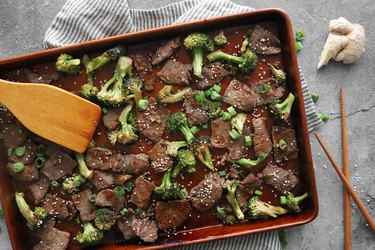 Video of the Day
Things You'll Need
1 1/4 pounds steak, thinly sliced

4 to 5 cups broccoli florets

1/3 cup low-sodium soy sauce

2 teaspoons fresh ginger, grated

4 teaspoons minced garlic

4 tablespoons brown sugar, maple syrup or honey

2 teaspoons sesame oil

2 tablespoons rice vinegar

1/2 teaspoon ground black pepper

Seasme seeds, for garnish

Chopped scallions, for garnish
Tip
Slice the steak into small, bite-sized pieces.
Step 1
In a large bowl, combine the soy sauce, ginger, garlic, brown sugar, sesame oil, rice vinegar and black pepper. Whisk until the brown sugar is fully dissolved.
Step 2
Toss the sliced beef in the marinade. Cover and let sit in the refrigerator for 20 to 30 minutes.
Step 3
Preheat the oven to 425°F. Line a large baking sheet with parchment paper (or lightly grease with oil). Transfer the beef to the sheet in an even layer. Reserve the marinade.
Tip
You'll likely need to use more than one baking sheet.
Step 4
Toss the broccoli in the leftover marinade. Let sit for 10 minutes.
Step 5
Transfer the broccoli onto the baking sheet(s), making sure everything is laid out in an even layer. Pour any leftover marinade over the beef and broccoli.
Step 6
Bake for 12 minutes or until the beef is cooked and no longer pink.
Garnish with sesame seeds and chopped scallions. Enjoy!