Pineapple casserole is an old Southern favorite that's hard to resist. From the sweet juicy pineapple to the buttery crushed crackers, this dish is exploding with flavor. It also has an unexpected ingredient: sharp Cheddar cheese! While the combination of pineapple, cheese and crackers may sound strange, the finished product is surprisingly delicious. You can serve it as a side dish with ham or as a dessert. Ready to treat your taste buds? Read on for an easy baked pineapple casserole recipe.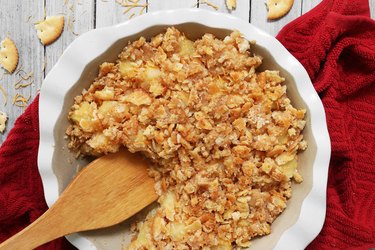 Video of the Day
Things You'll Need
2 20-ounce cans of pineapple chunks, drained

1/4 cup reserved pineapple juice

1/2 cup granulated sugar

6 tablespoons all-purpose flour

2 cups shredded sharp Cheddar cheese

30 to 40 butter crackers (like Ritz)

1/2 cup (1 stick) unsalted butter, melted
Step 1
Pre-heat the oven to 350 degrees Fahrenheit.
In a large bowl, combine the flour and sugar. Add the cheese gradually, mixing frequently to coat the cheese with flour.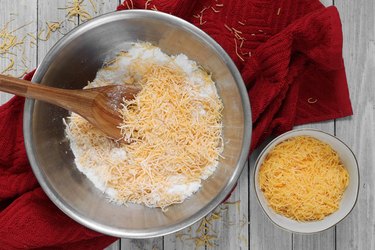 Step 2
Add the drained canned pineapple. Mix well.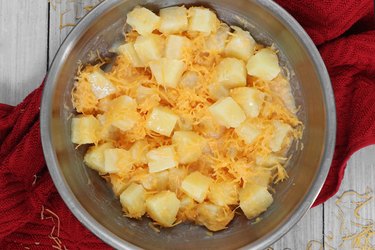 Step 3
In a separate bowl, crush the crackers with your hands or the bottom of a glass. You can make them as chunky or as fine as you'd like.
Step 4
Add the melted butter and reserved pineapple juice. Mix well.
Step 5
Pour the pineapple mixture into a greased casserole or pie dish.
Step 6
Spread the crushed crackers on top.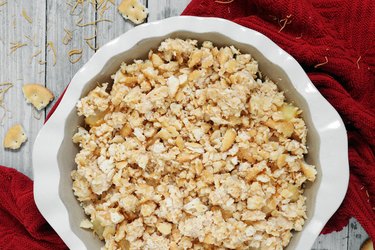 Step 7
Bake for 30 to 35 minutes or until the crackers turn golden brown. Serve warm as a side dish or dessert.