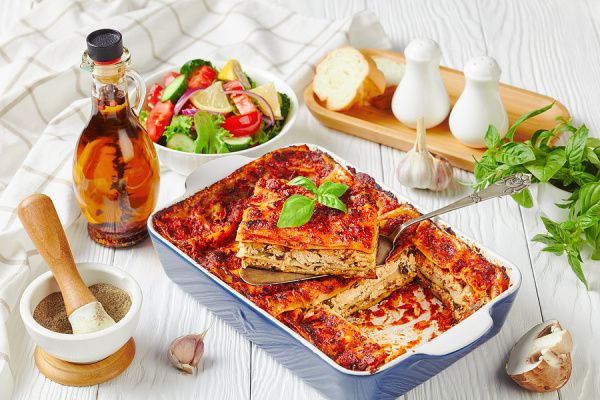 Looking for fun and exciting meals to make on meatless Mondays? Italian food is one of the most popular cuisines in the world, and fortunately it's easy to make Italian dishes vegan. You'll still get the same comfort foods you know and love with the added health benefits of a plant based diet. Many people are turning to meatless meals more and more these days and these vegan Italian recipes are sure to hit the spot!
What is the Vegan Diet?
The vegan diet is a diet made up of plant based foods that contain no animal derived ingredients. Along with animal meat, this includes eggs, butter, milk, cheese, gelatin and honey. Many vegans also do not eat foods that are processed using animal products, such as refined white sugar and some wines. People choose the vegan diet for numerous reasons. There are ethical, environmental and health benefits to a vegan diet, and it continues to be a highly popular way of life.
3 Benefits of The Vegan Diet
1. Reduces Your Risk of Heart Disease
A vegan diet can boost your heart health in a number of ways. A higher intake of plant-based foods is associated with a reduced risk of heart disease, while animal products, including meat, cheese and butter are main culprits of saturated fats. Saturated fats can raise your cholesterol levels, increasing the risk of heart disease and stroke. Plant based foods are also higher in fibre. People following a vegan diet typically take in fewer calories than those on a typical western diet, reducing the risk of obesity, a major risk for heart disease.
2. Weight Management
Those following a vegan diet tend to have a lower body mass index (BMI) than those following other diets. Many animal foods are high in fat and calories, so replacing them with low calorie plant-based foods can help you lose weight. The vegan diet has been found to offer more effective weight loss than omnivorous, semi-vegetarian and pesco-vegetarian diets. It's important to note that weight gain can sometimes happen when those following the vegan diet don't get enough protein or healthy fats and rely on carbs and processed vegan foods to fill them up.
3. Can Reduce Your Risk of Cancer
Plant foods are high in fibre, vitamins, minerals and phytochemicals that protect against cancer. Red meat has been found to likely be carcinogenic, linked to colorectal cancer, prostate cancer and pancreatic cancer. Processed meats such as deli meats have also been found to be carcinogenic. Eliminating red and processed meats from your diet reduces these risks.
What Do Vegans Eat?
A vegan diet includes fruits and vegetables, grains, beans, legumes, nuts, seeds, tofu and more. There are also many vegan versions of popular foods on the market, such as vegan hotdogs and burgers, and non-dairy ice cream, cheese, cream cheese, and yogurt. Meat substitute products like meatless chicken fingers and meatballs are also readily available. Fermented foods, like tempeh, miso, kimchi and sauerkraut are also popular in the vegan diet. Vegans also eat classic everyday foods like peanut butter, bread, pasta salads, and chips and salsa.
There's no shortage of tasty vegan recipes these days. Some examples of vegan meals are vegetable curries made with coconut milk, sweet potato and black bean enchiladas without cheese or sour cream, breakfast tacos made with plant-based meat and no eggs, eggplant parmesan without the cheese (nutritional yeast is a popular substitute), plant-based power bowls, tofu and veggie stir fry over rice, veggie wraps, veggie pastas, and so much more. It's not difficult to find delicious, vegan options these days.
Problems can arise with a vegan diet if you eat too many refined grains (white bread, white pasta, etc.), sweets and junk food. It can also be harder to get protein, vitamin B12 and iron with a plant-based diet if you're not actively trying to work in these nutrients. Soy products like tofu and edamame are packed with protein, and black-eyed peas and dried fruit are a good source of iron. It's a challenge to get vitamin b12 for vegans since it can't be found in plants, but you can take a vitamin B12 supplement or stock up on fortified cereals and soy drinks.
Is Pasta Vegan?
Most packaged pasta is 100% vegan, but always check the ingredient list to be sure. Some fresh pasta is made with eggs, but typically boxed pasta contains no animal-derived ingredients. It's often made of one or two plant based ingredients such as semolina and enriched wheat flour. There are also a ton of gluten-free pastas on the market today made with ingredients such as quinoa, rice, beans, legumes and sweet potatoes among others.
30 Vegan Italian Recipes
1. Easy Vegan Margarita Pizza | Vegan Huggs
2. Vegan Pasta Alla Bolognese | Lazy Cat Kitchen
3. Creamy Vegan Mushroom Risotto | Divine Healthy Food
4. Vegan Pasta Carbonara | Veggie Society
5. Creamy Vegan Mushroom Lasagna | Vegan Richa
6. Roasted Eggplant Pasta | A Couple Cooks
7. Pappardelle with Mushroom Ragu | Zucker and Jagdwurst
8. Vegan Gnocchi with Creamy Lemon Garlic Sauce | Connoisseurus Veg
9. Vegan Italian Meatballs | Healthy Little Vittles
10. Vegan Pesto Pasta | A Couple Cooks
11. Vegan Stuffed Shells with Spinach Ricotta | Holy Cow Vegan
12. Vegan Suppli | The Fiery Vegetarian
13. Vegan Spaghetti alla Puttanesca | Cookie and Kate
14. Vegan Ricotta Ravioli with Roasted Garlic | School Night Vegan
15. Tuscan Soup with White Beans | A Couple Cooks
16. Italian White Bean Soup | The Clever Meal
17. Panzanella (Tuscan-Style Salad) | Gathering Dreams
18. Easy Bruschetta | Cook It Real Good
19. Vegan Minestrone Soup | Holy Cow Vegan
20. Easy Herbed Garlic Focaccia Bread | The Fiery Vegetarian
21. Vegan Meatball Italian Sub | Eat Plant Based
22. Spaghetti Aglio e Olio | Kiipfit
23. Homemade Caponata | Cookie and Kate
24. Vegan Baked Ziti | Nora Cooks
25. Vegan Cacio e Pepe with Smoky Balsamic Chickpea Tofu | Vegan Richa
26. Creamy Portobello Mushroom Arancini | One Green Planet
27. Vegan Eggplant Parmesan | Minimalist Baker
28. Vegan Italian Salad | Zardy Plants
29. Vegan Fettuccine Alfredo | A Couple Cooks
30. Courgette Mushroom and Truffle Oil Pizza | Vegan Food and Living
If you've been on the search for plant based Italian meals, we hope you get great use out of these recipes. Your meatless Mondays definitely won't disappoint!