You will never cook hardboiled eggs any other way after trying out this recipe. From egg salad sandwiches to deviled eggs, this is a staple food everyone needs to know how to prepare. Learn how to make hardboiled eggs in an Instant Pot by following the recipe below.
Video of the Day
Things You'll Need
5 eggs

1 cup water

Instant Pot

Egg steam rack
Step 1: Cook the Eggs
Pour one cup of water in the bowl of the Instant Pot. Add in steam rack. Place eggs in slots and lock lid. Flip valve to "Sealing" and cook on manual high pressure for 5 minutes, and natural release for 4 minutes.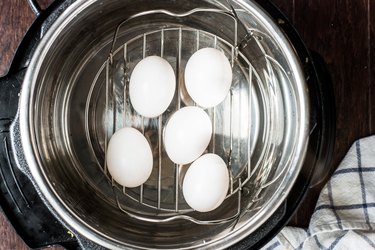 Step 2: Place in a Cold Water Bath
Open the lid and remove eggs by pulling out steaming rack. Place them gently in a bowl of cold water for 5 minutes. When cool, peel eggs and use as desired.