Frito pie is a classic in the Midwestern and Southern United States. It's also the epitome of comfort food, thanks to the layers of chili, cheese and crunchy Fritos. The pie, which is baked and garnished with tasty toppings, is essentially a taco casserole! And like all traditional dishes, there are many versions of this hearty meal. Here's one way to make Frito pie.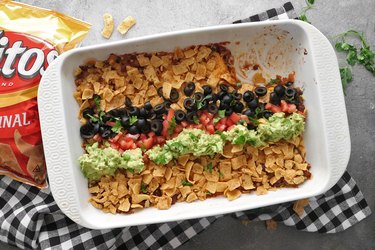 Video of the Day
Things You'll Need
9 1/4-ounce bag of Fritos

1 pound lean ground beef

1 medium yellow onion, diced

1 green bell pepper, deseeded and diced

15 ounces red kidney beans, rinsed and drained

1 1/2 cups tomato sauce

1 1/2 cups shredded cheddar cheese

2 tablespoons taco seasoning

2/3 cup water or broth
Tip
Save the liquid from the kidney beans and use it in place of (or in addition to) liquid or broth.
Step 1
In a large skillet over medium-high heat, add the onions and peppers. Cook for 5 to 7 minutes, or until tender.
Step 2
Add the ground beef and cook until browned, about 7 to 10 minutes. Use a spatula to break it up.
Step 3
Add the tomato sauce, beans, taco seasoning and liquid.
Step 4
Mix well and simmer for 15 minutes, or until thick. Meanwhile, preheat the oven to 375°F and grease a 9×13" casserole dish.
Step 5
Roughly crush 2 1/2 cups of Fritos. Place in the dish and spread in an even layer.
Step 6
Pour the thickened chili into the dish, on top of the crushed Fritos. Top with shredded cheese.
Step 7
Bake for 15 to 18 minutes, or until the cheese is bubbly and melted.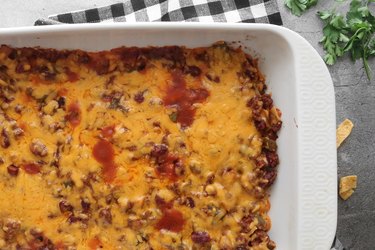 Step 8
Top with your favorite chili or taco toppings. We chose sliced olives, diced tomatos and guacamole. Other options include sour cream, sliced jalapeños, chopped lettuce — or all of the above! Anything goes when it comes to Frito pie.
You can arrange the toppings in several ways. One method is to evenly layer them across the pie. Or, you can place them in a row for an attractive visual. Alternatively, you could display the ingredients in separate bowls and let guests top their own servings of Frito pie.