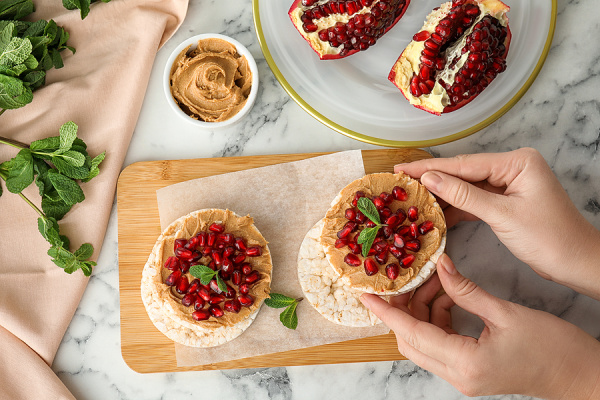 Rice cakes are such a great snack! Light and crispy, puffed rice cakes are a low-calorie carb that's a great replacement for bread, cookies and crackers. While rice cakes are lower in calories and fat and offer a healthier crunch than other snack foods like chips, they're not incredibly nutritious on their own. That's why topping them with healthy and delicious toppings is so important. They're just as versatile as toast for layering on the flavour, so get as creative as you can with your rice cake toppings! Whether you eat them for breakfast, lunch, snack, dessert or all of the above, take a look at 16 rice cake toppings you'll wish you tried sooner!
4 Breakfast Rice Cake Toppings
1. Avocado
If you're a fan of avocado toast, but want a low calorie option, topping a rice cake with avocado is perfect for you! Smash the avocado up like you would with toast, and consider making a guacamole-type spread and adding variations like garlic, pickled onions or radishes. Avocados are incredibly nutritious, and are loaded with fibre, potassium and heart-healthy monounsaturated fatty acids, so are great to eat for breakfast.
2. Nut Butter and Fruit
Nut butter is another healthy and delicious topping to use on your rice cakes for breakfast. From peanut butter to almond butter, cashew butter, macadamia butter and more, nuts are loaded with antioxidants and high in dietary fibre, which keeps you satisfied for longer. Add some fruits and honey on top for an extra sweet treat!
3. Greek Yogurt and Honey
Greek yogurt is high in nutrients like protein, B12 and calcium, and is packed with probiotics to keep you regular. Probiotics help keep your gut healthy, and are great for your digestive system as well as your immune system. Top it with honey for a little sweetness and you have a scrumptious breakfast!
4. Peanut Butter and Jelly
For a twist on the classic peanut butter and jelly toast, top your rice cakes with these spreads instead. Peanut butter is great to eat in the morning since it's high in protein and keeps you full, and jelly is PB's perfect match!
4 Snack Rice Cake Toppings
1. Ricotta and Cucumber
Light and delicious, ricotta cheese is a great source of calcium and provides lots of other essential nutrients. It's an excellent midday snack, topped on rice cakes and is delicious with cucumber as well. Add coarse salt and freshly ground pepper and you have a seriously scrumptious snack.
2. Hummus and Tomatoes
Hummus is another great snack option as it's packed with plant based protein and is high in fibre, which promotes digestive health and keeps you full for longer. Spread it onto your rice cake and add tomatoes on top for an extra dose of antioxidants.
3. Nutella and Raspberry
If you're in the mood for a sweet snack, top your rice cake with Nutella and raspberries. It's a seriously delicious combination that offers antioxidants, fibre and vitamins due to the raspberries!
4. Peanut Butter and Apple
Peanut butter and apple are a match made in heaven. Opt for all natural peanut butter for the most benefits. It's heart-healthy, promotes strong bones and suppresses hunger, which can lead to weight loss. Add apples on top for a crunchy, healthy addition!
4 Lunch Rice Cake Toppings
1. Cream Cheese, Smoked Salmon and Dill
While this scrumptious combination is usually used on bagels, place it on a rice cake for a lower calorie lunch option. Smoked salmon is a great source of protein, vitamin D and omega 3 fatty acids, and when combined with cream cheese and dill, it's an intoxicating bite!
2. Tuna, Mustard and Green Onion
Instead of making tuna salad with mayo, which is high in fat and calories, sub in mustard, which is low in calories and has no sugar or fat. Combine tuna, mustard and green onion for a tasty and healthy tuna salad to put on top of your rice cakes.
3. Cream Cheese, Strawberry and Arugula
Blending sweet and savoury flavours, this combo is perfectly satisfying for lunch. Spread cream cheese across the rice cake, add sliced strawberries and top with fresh arugula. You'll get plenty of antioxidants from the strawberries, plus arugula has tons of benefits too!
4. Ahi Tuna and Avocado
Ahi tuna and avocado make a great duo, and while we spilled the benefits of avocado above, adding ahi tuna to the mix adds a good dose of protein, as well as vitamins and minerals that are great for your health. Layer fresh or spicy ahi tuna and avocado on your rice cake and top with cilantro for a fresh finish!
4 Dessert Rice Cake Toppings
1. Chocolate and Trail Mix
Chocolate is one of the most popular desserts out there, so we couldn't leave it off this list! Spread your favourite chocolate (pudding, yogurt, Nutella) over a rice cake and top it with the trail mix of your choice. The nuts and dried fruit mixed with the chocolate will be a burst of flavour in your mouth.
2. Cinnamon Sugar
If you're feeling a sweet and light dessert, top your rice cake with butter, cinnamon and sugar for a tasty treat. Cinnamon sugar rice cakes will hit your sweet cravings without all the fat and calories!
3. Whipped Cream, Peaches and Blueberries
For a healthy and delicious dessert, top your rice cake with sliced peaches, blueberries, and a dollop of whipped cream. Sprinkle some cinnamon on top for an extra dose of sweetness!
4. Almond Butter, Banana and Coconut Flakes
This combination is sweet as can be, and it's not unhealthy, either. Almond butter and banana are already a match made in heaven, then sprinkle some coconut flakes on top and you have a seriously dangerous combination. Coconut provides you with disease-fighting antioxidants, plus it promotes blood sugar regulation and reduces risk factors for heart disease.
Rice cakes are extremely versatile and can be topped with everything from cream cheese and smoked salmon to Nutella and raspberries. Try these killer combinations for low calorie meals you'll love.