Ready in about 15 minutes, this garlic butter cod recipe is perfect for a quick weeknight dinner. It's also deliciously versatile, as it pairs well with myriad vegetables. Try it with sautéed grape tomatoes, spinach and a squeeze of fresh lemon juice. Serve it atop a bed of rice or pasta or enjoy it on its own.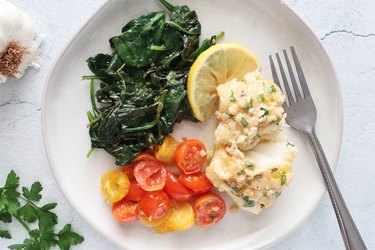 Video of the Day
Things You'll Need
4 small cod fillets, patted dry

6 tablespoons unsalted butter

2 garlic cloves, minced

2 tablespoons lemon juice

2 tablespoons all-purpose flour

Salt

Ground black pepper

1/4 teaspoon paprika

1/4 cup broth

Sautéed vegetables, for serving

Pasta or rice, for serving

3 to 4 tablespoons fresh parsley, chopped
Tip
To make this recipe gluten-free, use gluten-free all-purpose flour.
Step 1
On a plate or shallow dish, toss the flour and spices together.
Step 2
Coat both sides of each fillet in the flour mixture.
Step 3
In a large skillet over medium heat, melt 2 tablespoons of butter. Cook the cod until it is golden brown and flaky, about 3 to 4 minutes on each side.
Tip
Don't worry if the cod slightly falls apart. You will be deglazing the pan to make a sauce, so nothing will go to waste.
Step 4
Remove the cod and place it on a separate plate. Add the garlic and remaining butter to the skillet. Cook for about 30 seconds.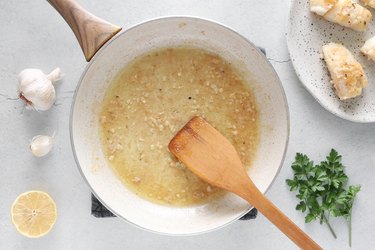 Step 5
Add the lemon juice, broth and parsley. Cook until slightly reduced and thick, about 1 to 2 minutes, scraping the skillet with a spatula.
Step 6
Plate the cod with cooked vegetables and pasta or rice. Pour the garlic-butter sauce over the cod and top with more fresh parsley if you'd like.