This simple update to an American classic requires only three extra ingredients, and you might be surprised at what they are.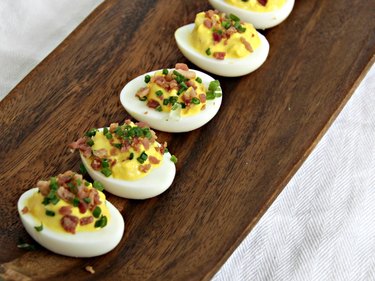 Video of the Day
Things You'll Need
1 dozen hard boiled eggs

2 tablespoons mayonnaise

2 tablespoons Ranch dressing

1 tablespoon mustard

1 tablespoon sweet relish

Salt & pepper to taste

1/4 cup bacon

2 tablespoons chopped fresh chives
Step 1: Split Eggs
Use a sharp paring knife to split the eggs from top to bottom.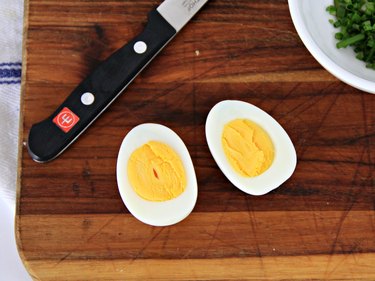 Step 2: Remove Yolks
Gently pop each yolk out of the eggs and into a medium sized mixing bowl.
Step 3: Mix Yolks
Use a fork to mash the yolks, then add mayonnaise, mustard, relish and Ranch plus a pinch of salt and pepper.
Stir to combine.
Tip
To avoid an overly runny mixture, add mayonnaise sparingly. Use a small amount first, then stir, only adding more as needed.
Step 4: Fill Egg Whites
Using a teaspoon, heap the yolk mixture into each egg white. Top with bacon and chives. Refrigerate for 20 minutes before serving, or overnight if making in advance. Enjoy!