When you need to feed a hungry crowd, you can't go wrong with a bacon cheeseburger casserole. This hearty dish is basically a deconstructed cheeseburger! With every bite, you'll enjoy a tasty combination of bacon, beef, cheese and more. And if you don't eat red meat, you can even replace the beef with ground turkey or chicken. You can be sure that this bacon cheeseburger casserole will be a new family favorite.
Video of the Day
Things You'll Need
2 cups uncooked pasta

1 pound lean ground beef

8 to 10 bacon strips, uncooked and chopped

1 cup yellow onion, chopped

1 tablespoon minced garlic

Salt and pepper, to taste

1 teaspoon dried oregano

1 tablespoon Worcestershire sauce

28 ounces diced canned tomatoes

2 tablespoons yellow mustard

2 tablespoons tomato paste or ketchup

2 1/2 cups shredded cheddar cheese

Pickles and tomatoes for garnish (optional)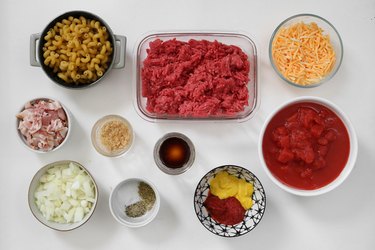 Tip
For a gluten-free version, use your favorite gluten-free pasta. You can also make a low-carb version by replacing the pasta with another 1/2 pound of beef.
Step 1
Pre-heat the oven to 375° degrees Fahrenheit.
Chop up the bacon and cook until crispy. Remove from the pan, set aside and save some of the bacon grease in the pan.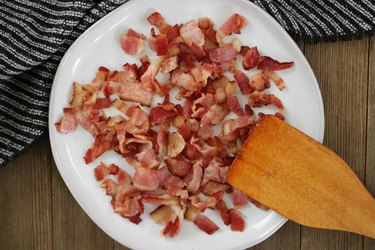 Step 2
In the same pan, cook the onions, garlic and spices in the leftover bacon grease. Cook until the onions are slightly clear, about 5 to 7 minutes.
Step 3
Add the ground beef and Worcestershire sauce. As the beef cooks, crumble it up with a spatula. Cook until the beef is brown and drain the excess liquid.
Step 4
Add the canned tomatoes, yellow mustard and tomato paste. Simmer for 30 to 35 minutes or until most of the liquid from the tomatoes has evaporated.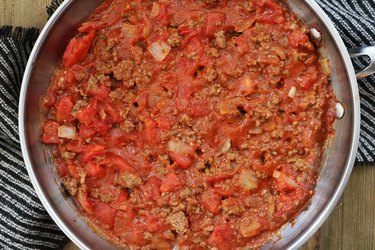 Step 5
While the beef is simmering, cook the pasta according to the package's directions.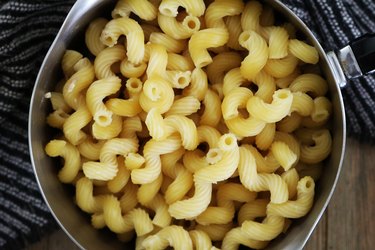 Step 6
In a greased 9×13" casserole dish, combine the bacon, pasta and beef mixture. Mix until the ingredients are evenly dispersed.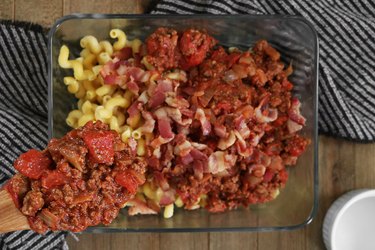 Step 7
Top with shredded cheddar cheese.
Step 8
Bake for 10 to 15 minutes or until the cheese is completely melted. Top with diced pickles and tomatoes, if you'd like.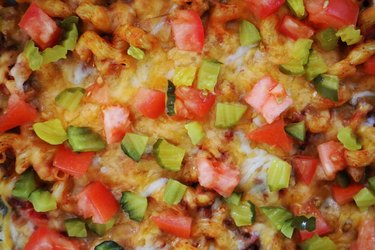 You can also serve this hearty dish with ketchup or BBQ sauce.
Enjoy!