There are few better things to enjoy during a delicious morning meal than a perfectly-baked, buttery, golden biscuit. And in this recipe, the perfect biscuit is made even better. Spicy jalapeño, sharp cheddar and smoky bacon combine to elevate this biscuit to a whole new level. It's amazing on its own or as part of a killer breakfast sandwich. With a batch of these, breakfast simply can't go wrong.
Video of the Day
Things You'll Need
2 cups self-rising flour

6 tbs very cold unsalted butter, cubed

1/2 cup + 3 tbs cold buttermilk, plus a bit extra for brushing

1 large jalapeño, deseeded and chopped

2 oz shredded sharp cheddar cheese, plus a bit extra for sprinkling

6 strips of cooked bacon, chopped

large bowl

pastry blender

rolling pin

2'' biscuit cutter

baking sheet

parchment paper

pastry brush
Step 1
Preheat oven to 425° F. Line a baking sheet with parchment paper and set aside. Place flour and butter in a large bowl and using a pastry blender, cut the butter into the flour until it becomes the size of small peas.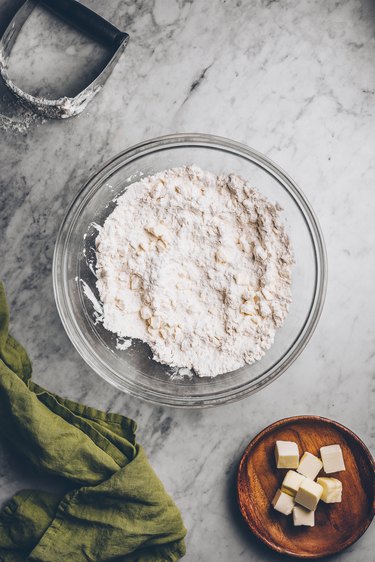 Tip
If you don't have a pastry blender, simply rub the cubed butter between your fingers until the butter breaks up into small pea-sized pieces.
Step 2
Add the shredded cheese, jalapeño and bacon, tossing a few times in the flour and butter mixture to coat.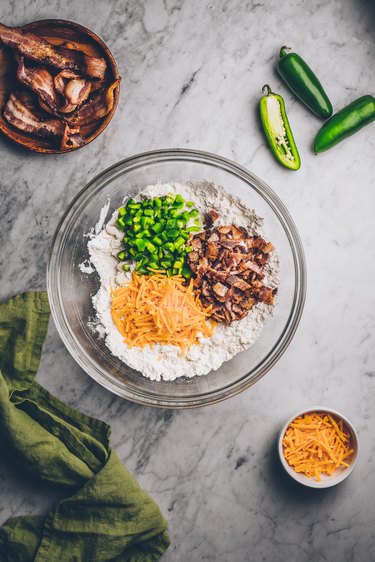 Step 3
Drizzle the buttermilk over the flour mixture, tossing the flour mixture with a fork as you pour. Once all the buttermilk has been added, gently knead the dough a few times until a shaggy dough forms.
Step 4
Turn dough onto a lightly floured surface with all purpose flour. Roll or pat the dough into a 6" x 9'' rectangle. Cut rectangle into thirds and stack on top of one another.
Step 5
Roll the stacked pieces into a 5" x 8" rectangle that is about 3/4" thick. Use a 2" biscuit cutter to cut out 8-9 biscuits, gathering and reshaping scraps as necessary.
Tip
Dip the biscuit cutter into some flour in between cuts to reduce sticking.
Step 6
Place the biscuits on the prepared baking sheet, with 1" spacing between them. Brush the tops with a little buttermilk and a light sprinkle of cheese.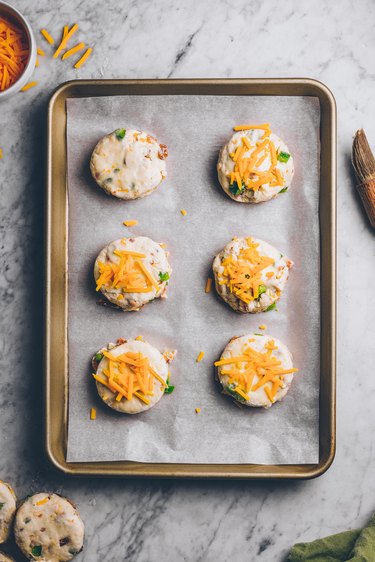 Step 7
Bake the biscuits for 14-16 minutes, or until lightly golden. Remove from oven and serve immediately. Enjoy!