If you ever find yourself with a hankering for a smoothie but no blender in sight, you can use a food processor instead. The key is to use frozen fruit instead of ice, as the food processor can break it down more easily. From lean and green to tropical and fruity, have fun whipping up your fave flavor combos!
Things You'll Need
Leafy greens (optional)

Fruit, fresh and/or frozen

Energy or health boosters (optional)

Liquid base, sweetened or unsweetened

Sweetener (optional)
Tip
Keep scrolling for a variety of ideas on all ingredients.
Step 1: Add Your Greens
If you're adding greens to your smoothie, add them to the food processor first. Be sure to pack them down towards the bottom. Heavier items like frozen fruit will help weigh them down. Baby spinach, kale, romaine, beet greens and Swiss chard are all excellent examples of greens you can blend into your smoothie.
Step 2: Add Your Fruit
Next, add your fruit on top of the greens. Frozen fruit works best if you'd like a more slushy consistency to your smoothie. Frozen bananas, pineapples, mangoes and berries are common fruit bases, but feel free to use any of your favorite fruits.
Step 3: Add Your Healthy Booster(s)
Enhance the health benefits of your smoothie by adding in one or several boosters. Here are a few examples you can try:
Protein: protein powder, chia seeds, hemp seeds
Fiber: flax seeds, oats, shredded coconut
Healthy Fats: almond butter, coconut oil, avocado
Energy Boost: maca powder, bee pollen, raw cacao
Antioxidant: acai, spirulina, goji berries
Step 4: Add Your Liquid Base
Lastly, add your liquid to the food processor. Almond milk, coconut water and soy milk are all great alternatives to regular milk, if you prefer a non-dairy option. Kefir or yogurt are also semi-liquid options if you prefer a thicker smoothie.
If you are using an unsweetened liquid base and prefer your smoothies on the sweeter side, now's also the time to add in your sweetener of choice, such as honey, maple syrup, agave nectar or dates.
Tip
Start with 1 cup of liquid first. If you need more liquid, add it in small increments, as food processors can leak if you add too much liquid.
Step 5: Blend Ingredients Together
Put the top on the food processor and blend the ingredients together. You may need to stop halfway through and scrape down the sides before continuing to blend.
Step 6: Remove Blade and Pour
Be sure to remove the blade from the food processor first. There is no pour spout on a food processor, so carefully pour the ingredients into a tall glass or mason jar. You may need to scrape the sides and use a spatula to guide the smoothie into the glass, especially if it's on the thicker side. Serve immediately.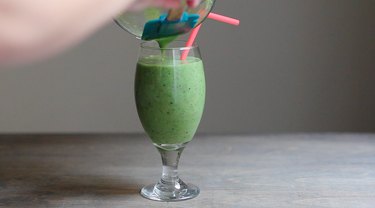 Banana Kiwi Green Smoothie Recipe
Enjoy the recipe featured in this article and video, and let us know what your favorite smoothie combination is on Facebook!
Makes 1 serving:
1 cup baby spinach
1 kiwi, sliced
1 banana, sliced and frozen
1 tablespoon chia seeds
1 cup almond milk