Things You'll Need
Bottled beer (light-colored beers work best)

Glasses

Food coloring (various colors)

Stirring spoon

Coconut rum

Ice

Pineapple juice

Soda water

Punch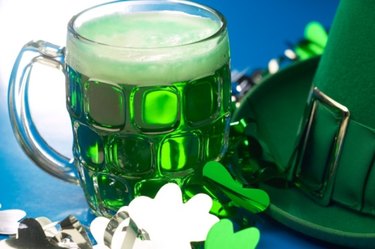 You don't need the luck o' the Irish to make green beer.
Whether you are dyeing a green beer for St. Patrick's Day, mixing up a blue Hawaiian or simply coloring your party's punch, adding food coloring to a drink gives it a customized color of your own choosing. While food coloring won't change the taste of your drink, it makes it look festive in whatever color of the rainbow you want.
Video of the Day
Green Beer
Step 1
Tilt your glass and slowly pour your drink to avoid building up a foamy head.
Step 2
Drop in six drops of blue food coloring while slowly stirring to achieve a dull, olive green coloring.
Step 3
Pour another glass.
Step 4
Drop in six drops of green food coloring while slowly stirring for a bright, sparkly emerald green coloring.
Blue Hawaiian
Step 1
Mix a shot of coconut rum in a glass with ice, pineapple juice and a splash of soda.
Step 2
Add 3 drops of blue food coloring. This gives your blue Hawaiian color without the taste of blue curacao.
Step 3
Add more food coloring for a bolder blue tint.
Colored Party Punch
Step 1
Mix a batch of colored party punch by adding food coloring quickly to a prepared bowl of the drink — instead of squirting one drop at a time, squirt a steady stream of the coloring while stirring the mixture.
Step 2
Stir the mixture throughout the party to prevent the contents from settling.
Step 3
Place different containers of food coloring near the empty glasses and do not add dye to communal punch bowl — this way, guests can add coloring to their own drinks for personalized concoctions.
Warning
Don't try adding green coloring to darker beers like stouts — it takes too much food coloring and will dye your mouth.