The trick to making these aromatic and visually stunning frozen swizzle sticks is a combination of freshly snipped herbs and an ice mold dubbed for "water bottle" cubes.
Video of the Day
While feasible year-round, our favorite combination is a mix of hearty fall herbs with a hint of citrus to pair with seasonal cocktails perfect for holiday gatherings.
Things You'll Need
Cylinder shaped or "water bottle" sized [silicone ice cube trays](https://www.amazon.com/Blue-Silicone-Bottle-Sized-Tray/dp/B0042KTUBY)

Fresh herbs: rosemary sprigs, sage leaves

Orange zest or peel, thinly sliced

Filtered or distilled water
Step 1
Arrange a mix of freshly cut herbs and citrus peels evenly among cylinder ice cube molds. While we were at it, we also froze a batch of fresh flowering peppermint sprigs, which pair well with a glass of sparkling seltzer or fresh lemonade during warmer months.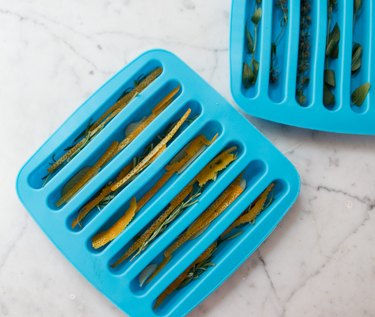 Step 2
Fill ice cube molds with water just below the fill line. Once frozen the ice will expand to cover the fill line.
Tip
To achieve a clearer ice cube use filtered or distilled water and boil prior to filling ice molds. Doing so will clear away the bulk of impurities that may otherwise cloud the ice when frozen.
Step 3
Freeze molds overnight or until completely frozen prior to removing for use.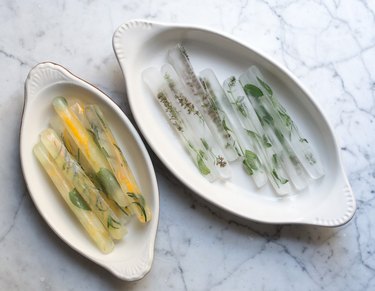 Step 4
Gently remove the elongated frozen cubes from the molds and use as flavored (and decorative!) swizzle sticks to accompany your favorite holiday beverage.
These citrus swizzle sticks pair amazingly well with a combination of cranberry cocktail and a bubbling seltzer. For a kicked-up version substitute the seltzer with a sparkling wine or champagne and garnish with a single segment of orange for added color and seasonal flavor.