It's holiday season and there's a chill in the air… so you know what that means. It's time to break out your cozy socks and start making warm, seasonally inspired drinks. Hot apple cider and spiked eggnog are classics, but when temperatures cool down, there's nothing quite like good old fashioned hot chocolate. You know what makes hot chocolate even better? Booze. While it's obviously an optional ingredient, adding bourbon to hot chocolate truly takes it to the next level. Try this easy version for a cozy treat that will warm you up in no time.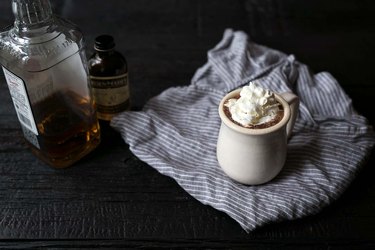 Video of the Day
Things You'll Need
1 cup whole milk (low-fat or nondairy may be substituted)

2 ounces (1/3 cup) bittersweet or semisweet chocolate chips

1/4 teaspoon pure vanilla extract

1 to 2 tablespoons bourbon

Optional: whipped cream for serving
Step 1: Gather Your Ingredients
Any milk will technically work in this recipe. Keep in mind that the higher the fat content, the more decadent the results will be. If you're adding whipped cream, a lower fat milk might make the hot chocolate feel less heavy. If you're omitting whipped cream, definitely consider using whole milk. Treat yourself!
You can get creative and use something other than bourbon. Spiced rum and Grand Marnier would be good options. Since the hot chocolate is already sweet, a sweet liqueur such as Irish cream or Kahlua has the potential to be cloying. It can still work, but consider using unsweetened chocolate instead of sweetened, and then adding the liqueur for sugar content.
Step 2: Heat the Milk
In a small saucepan, heat the milk over medium heat until it's steaming and barely starting to simmer.
Step 3: Place Chocolate Chips in a Bowl
Place the chocolate chips in a liquid measuring cup or bowl, preferably one with a spout.
Step 4: Pour Hot Milk Over Chocolate
Pour the hot milk over the chocolate chips. Allow it to sit for about 30 seconds to melt the chocolate.
Step 5: Whisk, Then Add Remaining Ingredients
Whisk until the milk and chocolate have incorporated. Whisk in the bourbon and vanilla.
Step 6: Serve
Pour into a mug. (Note: if there are any chocolate lumps, you can pour through a fine mesh strainer). Top with whipped cream, if using. Serve immediately.