Grasshopper pie is a classic! Swap the classic Crème de menthe for the easier to source peppermint extract and food coloring, mix up a quick and easy no-bake cheesecake filling, and you have yourself a new twist on an old classic. Perfect for a weeknight treat, or even a dessert for guests.
Things You'll Need
25 chocolate sandwich cookies (plus additional for garnish)

6 tablespoons melted butter

16 oz full fat cream cheese

8 oz sour cream

1 cup powdered sugar

1 teaspoon peppermint extract

3-5 drops green food coloring

Whipped cream for garnish
Step 1: Crush the Cookies
Add 25 cookies to a food processor (no need to remove the filling), and process until just crumbs.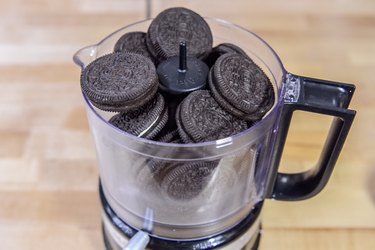 Step 2: Add the Butter
Add the melted butter, and processed until combined.
Step 3: Press Into a Pan
Press the crust into a 9-inch spring form pan using a heavy flat bottom glass or measuring cup to press well. Freeze for 30 minutes.
Step 4: Beat the Cream Cheese
Add the cream cheese and sour cream to a mixing bowl, then beat until well combined.
Step 5: Add the Mint and Coloring
Add the peppermint extract and green food coloring, and beat until well combined.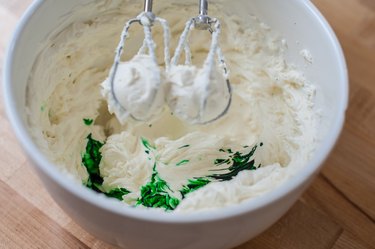 Step 6: Add the sugar
Add the powdered sugar, beating until well combined.
Step 7: Add Filling to the Crust
Spread the filling into the crust in an even layer. Chill for at least 3 hours and up to a few days.
Step 8: Decorate & Enjoy
Decorate with desired amount of whipped cream and crushed cookies. Chill until ready to serve.