In the United States, deep-fried Oreos are a popular treat at state fairs. Why wait for the next local event to enjoy the tasty snack? Thanks to this simplified recipe, you can indulge in fresh deep-fried Oreos in the comfort of your own home. You can even experiment with different Oreo flavors for a unique and personalized treat.
Video of the Day
Things You'll Need
2 (8-ounce) cans refrigerated crescent roll dough

16 double-stuffed Oreos

Vegetable oil

Powdered sugar (optional)
Tip
This recipe yields 16 deep-fried Oreos. For a smaller batch, use one 8-ounce can of crescent roll dough and eight Oreos.
Step 1
Roll out the crescent dough on a sheet of parchment paper. Cut along the perforated lines with a pizza cutter or knife.
Step 2
Place one Oreo in the center of each dough triangle.
Step 3
Fold up the corners of the dough, enclosing the Oreo.
Step 4
Press and pinch the dough to close the seams. Make sure the Oreo is fully wrapped.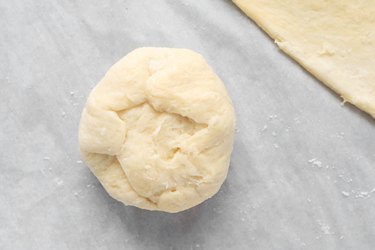 Step 5
Repeat with the remaining Oreos and dough.
Step 6
In a medium-sized skillet over medium-high heat, warm about 1 inch of vegetable oil. It should be deep enough to cook half the thickness of one wrapped Oreo.
Add a few Oreos to the skillet, making sure they don't touch. Fry for 2 to 3 minutes until golden brown. Using tongs, flip the Oreos and fry for another 2 minutes.
Tip
Before frying the Oreos, test the oil to make sure it's hot enough. To do this, add one wrapped Oreo and fry it according to these directions. Break it open and check the dough inside. If it's fully cooked, the oil is ready.
Step 7
Transfer the cooked Oreos to a plate lined with a paper towel. Fry the remaining Oreos in batches, adding more oil as necessary.
Step 8
Dust the fried Oreos with powdered sugar if you'd like. Enjoy immediately, as they taste best freshly cooked.
If you have leftovers, store them in an airtight container at room temperature for up to three days. They'll become less crispy over time, but they'll still taste great once they are reheated.