Turn your slow cooker into a candy factory with this tasty holiday crockpot candy recipe! It's so easy and takes only a few minutes of active time to make yourself an entire batch of homemade candy. Put those suckers in cute little packaging and you've got DIY holiday gifts for days. Plus, you'll even have a stash of emergency candy (and we all need some of that).
Video of the Day
Things You'll Need
1 (12 oz) bag white chocolate

1 (12 oz) bag semisweet chocolate chips

1 (12 oz) bag milk chocolate

1 tablespoon coconut oil or shortening

4 cups dry roasted or cocktail peanuts

Sprinkles or crushed candy canes (optional)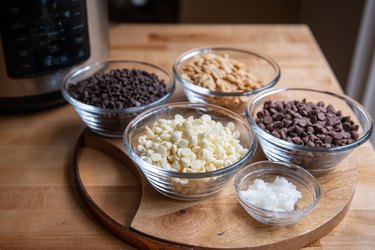 Step 1
Add the peanuts to the bottom of a crockpot in an even layer.
Step 2
Add the white chocolate, semisweet and milk chocolate, as well as the coconut oil. Do not stir. Set the slow cooker for one hour on low.
Step 3
Stir the chocolate and cook for an additional 30 minutes on low.
Step 4
Using a cookie scoop, add mounds of chocolate peanut mixture to a sheet of parchment on a flat surface.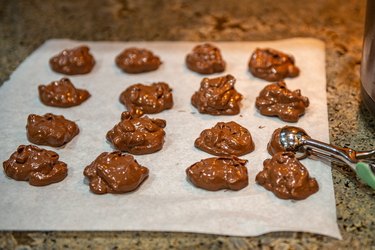 Step 5
Add the sprinkles or candy canes, if using.
Tip
​Make it your own!​ Add flaked coconut, sea salt, toffee chips, or other toppings — the sky's the limit!
Step 6
Allow to rest until set, about 1 hour. Serve chilled or room temperature.