Whether you're craving something chocolately—or stuck with extra zucchini from the garden—you'll want to make this recipe ASAP. Made with basic ingredients and fresh zucchini, this bread is both easy and delicious. You can even slice and freeze it, so you can always have a sweet treat on hand. Here's how to make chocolate zucchini bread.
Video of the Day
Things You'll Need
1 cup all-purpose flour

1/2 cup unsweetened cocoa powder

1 teaspoon baking soda

1/4 teaspoon salt

1 stick (1 cup) unsalted butter

3/4 cup dark or light brown sugar, packed

2 teaspoons vanilla extract

2 large eggs, room temperature

1 3/4 cups shredded or grated zucchini, packed (about 2 medium zucchini)

1 cup chocolate chips
Tip
Use a food processor or high-powered blender to shred the zucchini. You can also use a hand grater. Do not wring it out; the water will add moisture to the bread.
Step 1
Preheat the oven the to 350°F. Grease a loaf pan and set aside.
In a small saucepan over low heat, melt the butter. Make sure it doesn't burn or boil. Remove from the heat and let sit until slightly cool.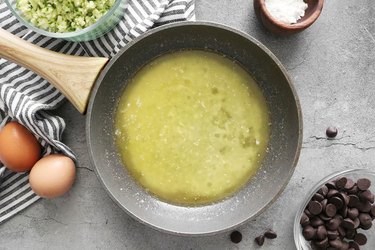 Step 2
In a large bowl, combine the melted butter, brown sugar and vanilla extract. Stir until the brown sugar dissolves.
Step 3
Add the eggs and mix well. Set aside.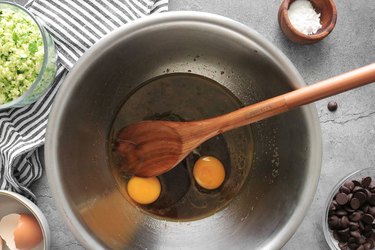 Step 4
In a separate bowl, combine the flour, cocoa powder, baking soda and salt.
Mix well.
Step 5
Add the dry ingredients to the wet ingredients, 1/3 a time a time. Stir well between each batch.
Step 6
Fold in the zucchini. Avoid overmixing.
Step 7
Fold in the chocolate chips until just combined. Again, avoid overmixing the batter.
Step 8
Pour the batter into the greased loaf pan. Top with the remaining chocolate chips.
Step 9
Bake for 50 to 60 minutes or until a toothpick in the center comes out clean. (There might be some melted chocolate on the toothpick. This is expected!) Keep in mind that every oven is different, so it might take more or less time for your bread to bake.
Let the bread cool for 10 to 15 minutes. Run a knife around the edge to remove, then place on a cooling rack. Store at room temperature in an air-tight container for up to 3 or 4 days.
To freeze, slice and wrap in aluminum foil or place in a freezer-safe container. The bread will keep in the freezer for up to 3 months. Defrost in the refrigerator before enjoying.