You may love the taste of homemade cake, but boxed cake mix is just so convenient. Using a mix doesn't mean your cake is destined to be dry or flavorless. Think of a store-bought mix as a basic starting point, or a culinary blank canvas. Then get experimenting — your kitchen probably already holds the ingredients you need to take your cake to the next delicious level.
Video of the Day
1. Swap Oil for Melted Butter
Is there anything that melted butter can't improve? Yeah, that's a no. Butter gives dry cake mix that homemade, straight-from-Grandma's-kitchen flavor. So leave oil out of the recipe and use melted butter instead. The swap shouldn't change the cake's texture much but will improve its taste.
2. Add Buttermilk
Buttermilk adds a creamy tang to a basic boxed cake mix. Bring that complexity to your dessert by using buttermilk in place of all or some of the water. If you don't have buttermilk on hand, make a substitute by combining a spoonful of lemon juice with a cup of milk. Let the mixture sit for five minutes before measuring out what you need for your cake mix.
3. Stir in Pudding Powder
Boxed mixes tend to produce cakes that are almost too light and airy. To give your cake a denser texture, try adding a packet of instant pudding mix to the cake. No need to follow the directions on the pudding package. Just add the powder right into the cake mix before adding wet ingredients.
4. Add Extra Egg Yolk
Egg yolks add creamy fat to your cake mix. It's no wonder they make such a delicious addition. Add two extra yolks to the mix to get optimal results. This tweak yields a cake that's moist and rich.
5. Use Hot Water
When the back of the box calls for water, you probably fill the measuring cup from the tap without thinking much about temperature. But using hot water is best, especially if you're making a chocolate cake. The heat will bloom any cocoa powder in the mix, intensifying the chocolate flavor.
6. Swap Coffee for Water
Craving mocha cake? Use hot coffee instead of water when making chocolate cake from a mix. The finished cake should have a distinctive mocha flavor. Another option: Make instant espresso and add the hot espresso to give the cake an even more intense coffee flavor.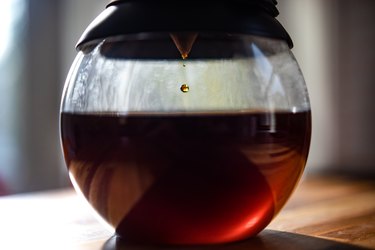 7. Use Soda
Want to simplify your life? Forget measuring out oil and cracking eggs. One of the absolute simplest ways to prep a boxed cake mix is to use just two ingredients — the mix and a can of soda. Experiment with different combinations, like cherry cola with chocolate cake or lemon-lime soda with vanilla.
8. Or Sub Milk for Water
No buttermilk, soda or coffee available? You can still do better than adding plain water to your cake mix. Swap in your favorite kind of milk to give the cake a little creaminess. The higher the fat content of your milk, the richer the finished cake will be. You might even try using chocolate milk!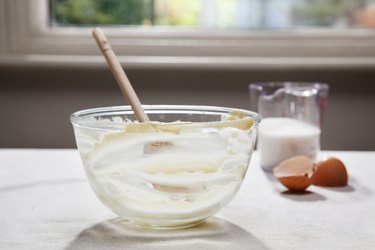 9. Experiment With Mayonnaise
Okay, hear us out: Mayonnaise may actually be the perfect complement to your boxed mix. It should make your cake incredibly moist and tender, but no one will be able to taste the secret ingredient. If it's your first time adding mayo to the mix, start with just one big spoonful; if you like the results, try adding a little more the next time you make a cake.
10. Layer, Layer, Layer
Take your cake to another level (literally) by adding layers! Simply bake two or three box mix cakes in round or square pans, then stack them with a layer of sweet frosting in between each layer of moist cake for a more professional look and taste. More layers equals more frosting, which equals more deliciousness.