"Beagle Brigade detector dog Joey uncovered an entire roasted pig in a passenger's baggage at Atlanta's Hartsfield-Jackson International Airport in late 2016. CBP
During the bustling Thanksgiving flying season in 2016, as travelers flitted from packed baggage claims to busy terminals catching flights, Beagle Brigade detector dog Joey was hard at work. As an employee of Atlanta's Hartsfield-Jackson International Airport, Joey is responsible for helping U.S. Customs and Border Protection (CBP) locate and intercept foreign agriculture that poses a threat to the country's ecosystem. The airport routinely buzzes with activity, and the days leading up to the holiday weekend were no exception.
It was a Wednesday when Joey sensed something highly unusual during his routine patrol. Following his instinct, he alerted his team to some suspicious baggage belonging to a female traveler from Peru. Upon examination, CBP agriculture specialists did indeed uncover something out of the ordinary: an entire roasted pig.
"All it needed was maybe a little barbecue sauce," laughs Rob Brisley, CBP public affairs officer. "Her intent was to cook it at home and board the plane to present it at a holiday meal with her family after she arrived in the U.S. Unfortunately, the right steps had to be taken to confiscate and destroy the item."
Employees like Joey are critical to CBP's mission; products like the well-intentioned traveler's pig are prohibited from entering the U.S. because they have the potential to introduce illnesses like foot and mouth disease or invasive pests that can destroy U.S. agriculture. For many, this successful seizure meant avoiding a possible threat to community health and well-being. For Joey, it was just another day on the job as a canine member of the Beagle Brigade [source: CBP].
Contents
What Is the Beagle Brigade?
How Are the Beagles Trained?
A Day on the Beagle's Job
Where Do the Beagles Come From?
What Happens When a Beagle Retires?
The Success of the Beagle Brigade
What Is the Beagle Brigade?
"The Beagle Brigade was formed by the U.S. Department of Agriculture (USDA) in 1984 at the Los Angeles International Airport. CBP
Like Joey who works in the Atlanta airport, the Beagle Brigade is a special team of detector dogs that is an important part of U.S. Customs and Border Protection. As agriculture canines, members of the Beagle Brigade are trained to sniff out fruits, foods, plants and animal products that are tucked away in passengers' luggage and carry-on bags as they arrive in the terminals on international flights.
While bigger dogs like Labrador retrievers are often responsible for patrolling the country's borders, beagles and beagle mixes are employed at airports because they're small, gentle, and pack a keen sense of smell and a big appetite; all features that make them perfect for the job [source: CBP].
The Beagle Brigade was formed by the U.S. Department of Agriculture (USDA) in 1984 at the Los Angeles International Airport. It started with just one beagle who was trained to pick up the scent of plants and animal products arriving on international flights in suitcases and carry-on bags [source: CBP]. The federal customs agency introduced beagles in an attempt to put travelers at ease since the breed can come across as less threatening than standard police dogs like German shepherds. Their small size also makes it easier for them to maneuver through crowded areas like baggage claim [source: Lade].
"These dogs have to work very closely around the passengers if they're coming through international airports, checking their bags and carry-ons," Kathleen Warfield, a training specialist at the National Detector Training Center in Newnan, Georgia told the Atlanta Journal-Constitution.
How Are the Beagles Trained?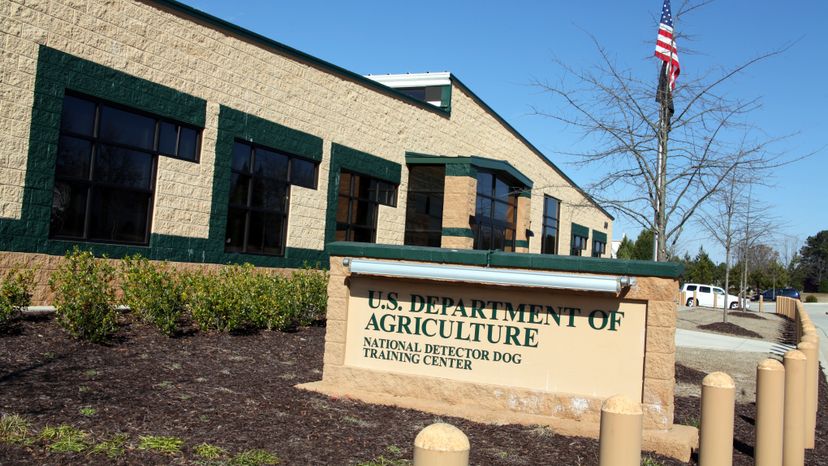 "All beagles begin "boot camp" at the National Detector Dog Training Center (NDDTC) in Newnan, Georgia. CBP
The USDA is responsible for training the detector dogs, as well as their handlers and supervisors, and it takes place at the National Detector Dog Training Center (NDDTC) in Newnan, Georgia. This is where members of the Beagle Brigade go to "beagle boot camp" to learn the ropes.
Training starts with a rigorous battery of tests to assess the dog's behavior, temperament and health status. Beagles must first pass screenings based on their high food drive (their desire to get food not related to their actual hunger), reactions to crowds and noisy situations, and their ability to stay focused.
Next begins the nose work — the dogs are taught how to sniff out contraband using boxes, bags and suitcases that contain prohibited fruits, plants and meats. The dogs learn to pick up on the scents of products like apples, oranges and beef, and then to further discriminate. For example, members of the Beagle Brigade learn to tell the difference between a real orange and a product that's just orange-scented, like candy or lotion. The dogs work for treats, and are rewarded for alerting a correct scent.
The beagles are accompanied by CBP agricultural specialists who serve as their handlers. Just like their canine counterparts, human officers have to complete training at the NDDTC too. This learning period for beagles and their handlers can last between 10 and 13 weeks, but training and evaluation are ongoing once the team land at their home base airport. The dogs may be trained to give either active responses (i.e., pawing at suspicious agricultural products), or passive/sitting responses, but regardless of their goal behavior, the handlers always make sure to reward them handsomely when they do the right thing [source: CBP].
"The dogs have fun — this is fun for them," says Abbey Powell, public affairs specialist at the Animal and Plant Health Inspection Service (APHIS), an agency within the United States Department of Agriculture (USDA). "All the training is totally based on positive reinforcement."
Despite having a nose built for the job (dogs have 220 million olfactory receptors compared to just 5 million in humans), not all beagles make the cut [source: Correa]. "Occasionally, a canine will be withdrawn from the program, even after passing the initial screening process," Powell says. Some dogs, for instance, just might not be able to hack the chaos at the airport and end up refusing to work. Those that do graduate know five basic scents: beef, pork, citrus, mango and apple, but some end up knowing many more.
But animal lovers needn't worry about the well-being of the canines that, well, fail. "These dogs are never euthanized or returned to animal shelters," Powell says. "Instead, the NDDTC takes great pride in their ability to adopt out any canine that is dropped from the program."
A Day on the Beagle's Job
"A beagle on the job detects agriculture in a passenger's bag. Many animals and plants, which can spread disease, are prohibited from crossing U.S. borders. CBP
The U.S. generates more than $1 trillion every year producing, consuming, exporting and importing agricultural products. This makes the country one of the world's agricultural leaders, but it also leaves the borders vulnerable to non-native plants and animal products that can spread disease. Invasive species are a big threat to American agriculture; according to the Department of Homeland Security, the U.S. loses about $136 billion in agricultural revenue as a result of these species [source: CBP].
"Prohibited agricultural items can harbor plant pests and foreign animal diseases that could seriously damage America's crops, livestock and the environment – and a large sector of our country's economy," Powell says.
APHIS is the agency responsible for helping to protect the country from foreign animals and plants, which can spread disease, and the agency helps regulate what crosses U.S. borders. "One key tool used to screen passengers and cargo for agricultural contraband is the agriculture detector dog teams," Powell says. An agriculture detector dog, together with a dog handler, make up a "team" that work together to locate agricultural contraband before it can cause any damage within U.S. borders.
While training for the Beagle Brigade begins at the facility in Newnan, it officially ends at the airport when they're tested on the job. The dogs watch and sniff passengers coming through customs, who, according to Brisley, are required to declare any agricultural products like meats, produce, plants, and seeds they may be carrying.
So what happens if a beagle catches a whiff of something potentially illegal and alerts his handler? "If a traveler declares up front they have items, then no action will take place," Brisley says. "Depending on the circumstances, a fine or an arrest could occur."
And just like any other hard-working employees, the beagles need a break after a long day, so rather than stay with their trainers or live with families, they're boarded at nearby facilities close to their workplace.
"We get inquiries a lot from people asking if the dogs can stay with them and then have their trainer pick them up in the morning," Brisley says. "But based on our history and our best practices, we have the canines kenneled overnight at a nearby facility, and that works best for everyone." That's mainly because the dogs need their rest. If they work eight hours on the job detecting prohibited agricultural products and then go home to a family of kids and a backyard garden, they'll never stop working and be wiped out by the next morning when their handler picks them up, Brisley explains.
Where Do the Beagles Come From?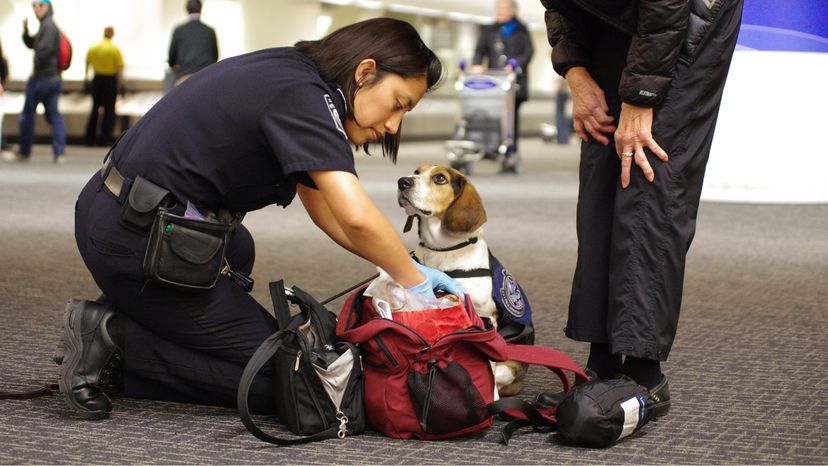 "The majority of the dogs working in the Beagle Brigade come from rescues and shelters across the United States. CBP
The USDA gets all of its beagles and other detector dogs through adoptions from rescue shelters in the U.S. or via private donations. "We don't buy any of our dogs; they're all given to us by shelters or rescue centers, or families," Powell says.
After an initial two-week intake period for health and behavior evaluations, the dogs' skills are put to the test. "Just because you're a beagle or lab doesn't mean you're suitable," Powell says. "We're looking for the right temperament; they have to be friendly, have high energy and a high food drive. Then they go into training with a handler and that can be an additional 10 to 14 weeks depending on whether they'll be working in an airport or a mail processing facility."
In early 2017, one particular beagle made headlines for highlighting the important role shelters play in staffing the Beagle Brigade with skilled, capable canine employees. Three-year-old Murray was rescued by Alcovy Pet rescue Inc. from the Northeast Georgia Animal Shelter, and found a renewed sense of purpose as Hartsfield-Jackson Atlanta International Airport's newest agriculture detector dog.
Murray had sustained serious injuries at the hands of his former owners — he was missing half of one ear and his tail had to be amputated because his owners had tried to dock it themselves. His severe injuries made adoption unlikely, but Alcovy Pet Rescue employees nursed him to better health and contacted the NDDTC. Thanks to his easygoing attitude and top-notch skills, he made an ideal Beagle Brigade candidate [source: Hansen].
And Murray's story isn't unusual, but for security purposes, U.S. Customs & Border Protection doesn't share exact numbers when it comes to the amount of active on-duty members of the Beagle Brigade. However, the agency can confirm that there are more than 116 CBP agriculture canine teams consisting of dogs and handlers. And these teams provide screening at every international airport in the country [source: Amelinckx].
What Happens When a Beagle Retires?
"The U.S. Customs and Border Protection Presented honors Shiloh at his retirement. Shiloh worked for eight years at LAX and was responsible for around 20,000 interceptions. Bob Chamberlin/Los Angeles Times via Getty Images
In late 2016, Jasper retired from his six-year career on the Beagle Brigade at the John F. Kennedy International Airport. During that time, he seized 17,167 items, several of those were particularly memorable, including whale meat, a goat's head and rhinoceros skin. His handler, agriculture specialist Amanda Tripple, told Modern Farmer that the 8-year-old beagle-bluetick-coonhound mix could likely continue working, but the mandatory retirement age is 8.
Some dogs do retire earlier if they don't seem happy on the job, or for health reasons. And their handler always gets the chance to adopt, as was the case for Jasper.
But if a handler can't take them, APHIS officials do everything they can to find the detector dogs great homes. Powell says, most adoptable dogs are placed on Petfinder.com, and all are spayed or neutered. "On occasion, K9 handlers or co-workers adopt the beagles and we maintain strong pet rescue agency relationships throughout the country," Brisley says. But for the most part, they generally have no trouble adopting them out — in fact there's currently a waiting list to bring one home.
The Success of the Beagle Brigade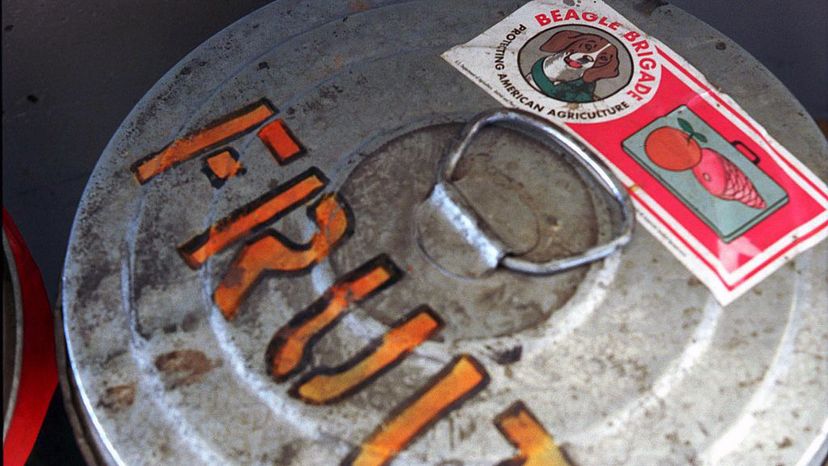 "In 2016, the Beagle Brigade helped U.S. Customs & Border Patrol seized more than 1.77 million illegal agricultural goods from entering the country. Joe Raedle/Getty Images
Today, more than 116 U.S. Customs and Border Protection agriculture canine teams work at border crossings, airports, cruise terminals, warehouses and mail facilities that process international passengers and cargo. In 2016 alone the Beagle Brigade inspected more than 23 million passengers, and nearly 741,000 pieces of freight, alerting to more than 1.77 million seizures of illegal agricultural materials [source: CPB].
In February 2017, Beagle Brigade agriculture canine Gadget seized two live trees and one live potted tamarind plant, 42 packages of seeds, 20 pieces of palm tree plantings, chicory seeds, rice, millet and fresh garlic from a traveler who arrived at Dallas-Fort Worth airport. The passenger listed only an apple and chocolate on her declaration. Gadget's find in Dallas is just one of many that occur daily by the beagles working in U.S. airports.
And other countries have noticed. According to APHIS, Mexico, Japan, Canada and Chile have looked to the National Detector Dog Training Center when creating their own processes for canine and handler training, certification and validation. That means USDA-trained dogs and handlers work around the world to protect agriculture. U.S. agencies like the U.S. Fish and Wildlife Services, and multiple state plant health directors also use the expertise of the National Detector Dog Training Center for their facilities and staff.
And the NDDTC also recognizes that it's been a team effort. Animal rescue centers, organizations and shelters have also played integral roles in placing the beagles into the positive work environment that they may not otherwise have had access to. "We need more dogs available for this type of work and the animal organizations know that certain dogs are good for humanitarian work; just like certain dogs can help lead the blind," Brisley says. "These organizations are a valuable link in providing beagles with the qualities we look for."
Some dog rescues and shelters, however, have been initially reticent about adopting to the USDA because they think they'll be robbing the dogs of a good home, Powell says. "But actually, the dogs that make the best candidates wouldn't be suitable for a home environment because of their high energy and high food drive, which makes them respond to positive reinforcement," she explains.
"These are dogs that would be going through the kitchen cabinets, jumping all over the place and that would be too hyper, but that's exactly what makes them ideal for us," Powell says. "This gives new life to dogs that would otherwise be euthanized in a shelter; they go from not working out in a home to eventually becoming heroes protecting American agriculture. It's a win-win for the dogs, for the USDA, CBP, and U.S. agriculture."
Lots More Information
Author's Note: How the Beagle Brigade Works
I loved learning that the very qualities that make some beagles challenging to adopt (voracious appetite, sky-high energy, etc.) are considered assets to the Beagle Brigade. It's nice to think the Brigade has given otherwise unadoptable canines the opportunity for new, meaningful lives.
Related Articles
How Bomb Sniffing Dogs Work

How Guide Dogs Work

How Search-and-rescue Dogs Work

How Dog Training Works

How Police Dogs Work
More Great Links
U.S. Customs and Border Protection Agricultural Canine

Agricultural Canine Cards

Animal and Plant Health Inspection Service

CBP Canine Program

Don't Pack a Pest
Sources
Amelinckx, Andrew. "Meet the Beagle Brigade: Protecting American Ag One Sniff at a Time." Modern Farmer. Oct. 12, 2016. (March 29, 2017) http://modernfarmer.com/2016/10/beagle-brigade/

Brisley, Rob. Personal and email interviews, March 27, 2017.

CBP.U.S. Customs and Border Protection. "Agriculture Canine." (March 29, 2017) https://www.cbp.gov/border-security/protecting-agriculture/agriculture-canine

CBP.U.S. Customs and Border Protection. "Agriculture Fact Sheet." (March 29, 2017) https://www.cbp.gov/sites/default/files/assets/documents/2017-Jan/700897%20-%20FY%202016%20Agriculture%20Fact%20Sheet%20Update_OFO.pdf

CBP.U.S. Customs and Border Protection. "CBP Atlanta Beagle Brigade Intercepts Foreign Plants, Seeds … and a Whole Pig." Nov. 29, 2016. (March 27, 2017) https://www.cbp.gov/newsroom/local-media-release/cbp-atlanta-beagle-brigade-intercepts-foreign-plants-seeds-and-whole

Correa, Julio E. "The Dog's Sense of Smell." Alabama A&M University. Feb. 2016. (March 27, 2017). http://www.aces.edu/pubs/docs/U/UNP-0066/UNP-0066.pdf

Department of Homeland Security. "DHS Commends and Congratulates CBP Beagle Jasper on his Retirement." Sept. 30, 2016. (March 29, 2017). https://www.dhs.gov/blog/2016/09/30/dhs-commends-and-congratulates-cbp-beagle-jasper-his-retirement

Hansen, Zachary. "Abused dog to join Beagle Brigade at Hartsfield-Jackson airport." The Atlanta Journal-Constitution. March 20, 2017. (March 27, 2017). http://www.ajc.com/lifestyles/abused-dog-join-beagle-brigade-hartsfield-jackson-airport/72FKWgMH5WLkXmGKDoj5zJ/

Lade, Diane C. "Beagle Brigade to the rescue! Pound puppies grow up to work security at airport." Sun Sentinel. Feb. 24, 2017. (March 27, 2017) http://www.sun-sentinel.com/features/fl-rescue-dogs-work-airport-security-20170214-story.html

Powell, Abbey. Personal and email interviews, March 26, 2017.