The New Year is right around the corner and we want to make sure you party in style. This fun project will make any party a fun one. Your guests are sure to not only talk about this wall decor, but they will most likely want to take a selfie or two in front of it!
Video of the Day
Things You'll Need
Free printable

Green crayon, colored pencil, marker or paint

Washi tape

Gold mylar

Scissors

Double-sided tape

Champagne colored balloons

Sticky tack

Mounting strips
Step 1
To make your own, you will need to save this download on a USB drive to print at your local print shop as an engineer print. This should only cost a few dollars. The size is 24 x 36 inches. Then, grab your darkest green crayon or colored pencil and color in the bottle. Don't color the square box or the top portion of the bottle (you'll apply mylar here), but do color the opening of the bottle. I colored mine a bit more later to get it nice and dark, just like the emoji!
Step 2
This part can be tricky. Use your washi tape and secure a piece of mylar over the design you want to trace. It can be hard to see the lines you want to trace so I held it up to the window. So much easier!
Next, grab your scissors and carefully cut out the traced design. Then grab your double sided tape and cover the white space with the tape. Then very carefully align the design from the top to the bottom, smoothing it out as you go.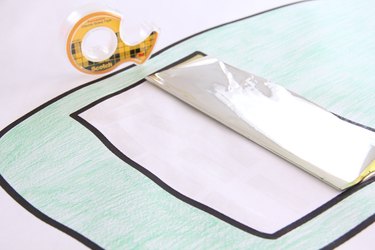 You will do the same last two steps for the top of the bottle!
Step 3
Now to get rid of all that white space! Use your scissors to cut out the design.
Step 4
Now it's time to blow up some balloons! The strips in this photo below are mounting strips, they are what we will use to attach the balloons to the wall.
Next, tape the bottle to your wall using the washi tape or some sticky tack. Then attach the mounting strips to each balloon and stick them on the wall above and around the bottle. The idea is to make it look like the champagne is flowing! So cute, right?
What better way to ring in the New Year than with this wall decor?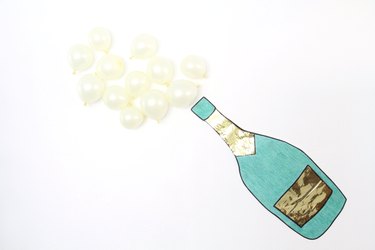 Now you are officially ready to party!