Fall will be here before you know it, and with the incoming chilly air and changing leaves can come the urge to change up your home decor. With a few simple swaps, your home can feel festive and ready to take on any get-togethers or impromptu parties the next few months have in store.
Whether you're planning on hosting for the holidays or just want to cozy up your space, it doesn't have to break the bank or feel like another chore on your to-do list. Start by picking a few of your favorite fall trends and use them in small doses around your house. Need some inspiration to get you going? We've got you covered. Keep scrolling for 10 simple ways to add the year's most popular trends to your fall decor.
Video of the Day
1. Set the Mood With Candles
Candles are one of the easiest things you can add to your current decor to make it feel cozy and inviting. Go for a dramatic arrangement of tall, tapered candles on your coffee table to add warmth to the room or create an eye-catching centerpiece with a grouping of floating candles. Don't forget to choose a classic fall scent to add yet another layer of decadence to your decor. You can never go wrong with candles.
2. Warm Up Your Walls With a Macrame Hanging
Add a dose of macrame to your current decor and it will instantly warm up your living space. The varying thickness and texture often found in the weavings will make the room feel festive and fall-ready. Grab an easy DIY kit to make your own macrame wall hanging to create a piece of decor you can use for years to come.
3. Add Pops of Velvet
Plush velvet fabric, especially in a deep color like burnt orange or dark purple, just screams fall. Use velvet fabric in small doses around your home to keep things from feeling too heavy. Try swapping out the linen throw pillow covers on your couch for velvet ones for a quick revamp, or place a cute handmade velvet pumpkin on your end table. When it comes to this trend, less is more.
4. Create Intimate Lighting With Lanterns
One way to set the mood for any get-together is with lighting. If you're having an intimate get-together with a handful of your closest pals, the last thing you want is glaring lights blinding your guests. Instead, turn off the bright lamps and add a few lanterns to your design. They'll add warm filtered light to the space and will make your friends feel right at home.
5. Use Woven Baskets for a Chic Storage Solution
The season for fall movie marathons is getting closer, and it's almost time to get all your coziest throw blankets out of storage. Keep them within arm's reach at all times by storing them in a woven basket near the couch. Baskets, whether big or small, also make for a great place to quickly toss all the random things on the living room tables when your family stops by for an impromptu visit.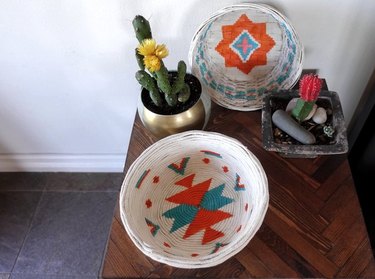 6. Bring the Outdoors Inside
Some of the best inspiration for the fall season can be found right outside your window. The yellow, brown and orange of the changing leaves form the perfect color palette. Take advantage of the piles of leaves on the ground and literally bring the outdoors inside. Sew a few leaves together to make a simple banner or rustic table runner that is fun to look at but won't ruin your day when you toss it at the end of the season.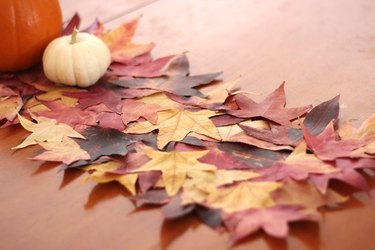 7. Stick to Classic Elements, Like Pumpkins and Leaves
No matter what year it is, there are just some things that will never go out of style when it comes to fall trends, like pumpkins and leaves. Decide if you prefer chic white pumpkins, classic orange or a mix of both and start piling them around your house. Put small ones on bookcase ledges or in the middle of the table and save the larger pumpkins for near the fireplace or on the porch. No matter how you do it, incorporating these seasonal staples is a sure-fire way to make sure your home decor is ready for fall.
8. Decorate Your Door With a Simple Wreath
Your front door is the first thing guests see when they walk up to your house and the last thing they see before they enter, so make sure it's worth looking at. Something as simple as hanging a wreath on your door is all you need to take your front entrance from drab to fab.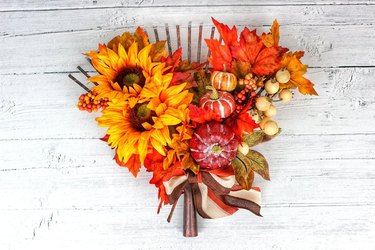 9. Choose a Warm Color Palette, Like Hues of Orange
Having a set color palette with which to work will make choosing all your other accessories easier and will give your space a cohesive look. Pull your inspiration from nature and gravitate toward a color palette full of the warm oranges, mustard yellows and light browns seen in the fallen leaves to make your home feel like a natural extension of the outdoors.
10. Stick to a Green Color Scheme to Carry You Through the End of the Year
If orange and yellow aren't really your thing, opt for a darker color scheme filled with shades of green. The deep shades of hunter and forest green will still coordinate perfectly with the rest of your fall decor but will also transition seamlessly into winter.