1 of 11
DIY These Home Decor Items
Most people have a few clear goals in mind when they choose DIY items over store-bought ones. They'd like to save money, be creative and feel satisfied in completing a project. While everything in this list certainly meets those goals, they're worthwhile choices for another reason — these 10 items make statements that can be entirely your own. From a memo board that's dependent on your fabric choice, to a bedside lamp that can be stained any shade, to a herringbone headboard that will match any bedroom's decor, these are projects that depend on personality. And that's where you come in.
Image Credit: eHow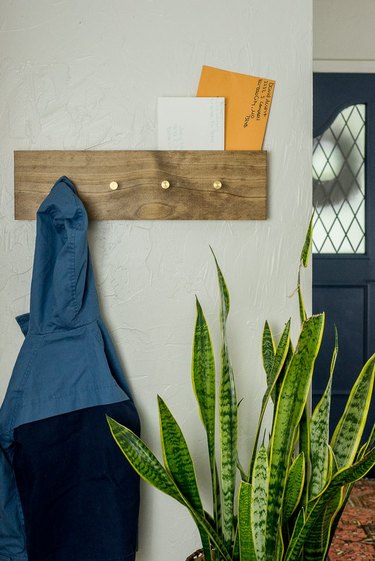 2 of 11
Organize Your Entryway
You could easily buy a coat rack. But when you make your own, you can mount a coat rack that holds everything you have spilling out of your hands when you walk in the door — not just the things that need a hanger. With a hidden slot on top, this coat rack is minimalistic and multi-purpose.
Image Credit: Ashley Mayes
3 of 11
Light Up Your Style
When it comes to less-traditional options, it can be even harder to find an item in stores that perfectly matches your taste. For a timeless look that can complement a variety of decorating styles, make an industrial wooden lamp. While a lamp DIY project might seem intimidating, this step-by-step guide is simple enough to complete in an afternoon.
Image Credit: Shades of Blue Interiors
4 of 11
Customize the Mood
Once you've finished your untraditional lighting project for the bedside table, you'll want something equally as impressive for the common areas. Make a candlelight chandelier that will change the entire mood of the room it hangs in. Control that mood by choosing one of many customizations to make this piece even more your own.
Image Credit: Sarah Dorsey
5 of 11
Simplify Your Bedroom's Charm
When it comes to the place where you sleep and relax, simplicity is usually the best style choice. To keep it calm, make your own herringbone headboard with wood shims. This is one of those projects that will save you a ton of money and add lifelong value to your bedroom.
Image Credit: Lindsey McCord
6 of 11
Give Playtime a Boost
For kids' downtime, there's really nothing like a well-made fort. It can turn a normal corner of the house into an adventure, and you can move it around to keep things interesting. To bolster playtime, make your own fabric canopy, which is endlessly open to any adventure your child can invent.
Image Credit: Kelly Smith
7 of 11
Turn Old Rugs Into Chic Lounge Spots
The best kind of DIY project is one that transforms old items that you no longer use into new items that will define your home's style. With this DIY project, you can spend a couple of hours upcycling an old shag rug to create a bench that might cost you an entire paycheck at an upscale furniture store.
Image Credit: Ashley Mayes
8 of 11
Make Even the Laundry Hamper Look Good
Although the clothes you're throwing into it are dirty, your hamper still adds to the aesthetic of your home, so why not make it stand out? Inspired by Anthropologie, this DIY laundry hamper is sturdy enough for a few large loads and can make even your crumpled up clothes look stylish.
Image Credit: Beth Huntington
9 of 11
Make a Memo Board That's Almost Too Pretty to Cover
Using a fabric of your choice, you can make your own memo board to keep you organized while showing off your taste. After you've adjusted the tutorial to your preferences, it might even be too pretty to cover with pins and to-do's — but hey, even if that happens, your schedule will still look tidy.
Image Credit: Bethany DeVore
10 of 11
Make a Mood-Changing Lightbox
The best thing about this DIY lightbox is not just that it can change the mood of the room. What's even more interesting is that you can change the message on the lightbox according to your mood. Change out the letters as often as you please for a room piece that makes a statement.
Image Credit: Machelle Vanderhoeven
11 of 11
Build a Little Luxury for Anywhere Meals
Having a bar cart at the house is nice for parties, outdoor meals, breakfast in bed and any other occasion where food is appreciated. While they can get pretty pricey in stores, you can make your own rustic industrial bar cart to eat and drink wherever you please.
Image Credit: Sarah Dorsey