While the saying "There's No Place Like Home" may be true, nothing makes you feel at home quite like rustic décor. Whether you call it farmhouse style, vintage or country, the style is cozy and welcoming. Even modern homes can add warmth and lived-in comfort with an eclectic mix that includes some bucolic touches. Rustic décor also works year-round, as the natural colors are perfect for fall and winter, while the inviting elements are a great touch for spring and summer entertaining both indoors and out. With these DIY décor kits, you can add some rustic elegance to your home while expressing your creativity.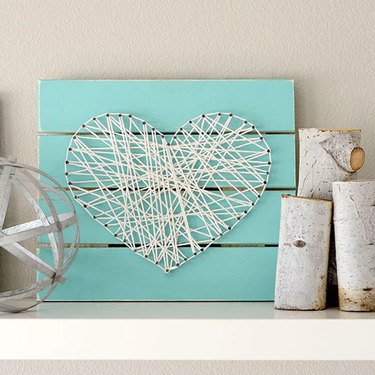 Video of the Day
1. DIY Wood Table Lanterns
Lanterns are a beautiful way to add charm to your home. Place them on mantles and entryways or use them as functional centerpieces. They also look magical hanging from a tree. For safety, it's recommended to use battery-operated candles, but you can even fill your lanterns with bouquets of flowers. This kit lets you make a set of two lanterns, one 12 inches tall and one 10 inches tall.
​Kit includes:​
Wood lantern pieces
8 metal brackets with screws
Glue
Tape
Screwdriver
Paint
Nails
Instructions – video and written
Available on Etsy
2. 3-Wick Candle Kit
Candles are so easy to make yourself, and once you've made one, you'll wonder why you've waited so long. Candles are not only essential décor items but they also make great gifts. What gives these candles their rustic charm is the dough bowl container. Those of you who bake your own bread may recognize these oval bowls that are used to proof dough. What a homey vessel for a relaxing candle! Because the bowl is oval, this candle features three wicks, resulting in an even more dramatic piece. As a bonus, all the ingredients to make this candle are natural, including the 100-percent-soy wax.
​Kit includes:​
1 dough bowl – your pick of a brown or white bowl
1 wood spoon
3 cotton wicks
3 wick stickers to stick the wicks to your dough bowl
1 pound of 100-percent-soy wax flakes
1 ounce of your choice of fragrance
Step-by-step instructions
Available on Etsy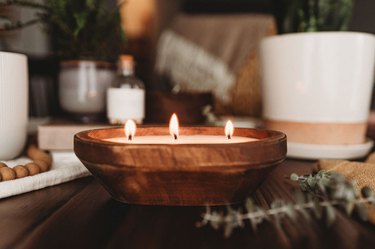 3. Mason Jar Flowers Diamond Painting Kit
Diamond painting is a hot DIY craft trend that's similar to paint by numbers, but instead of paint, you fill in the numbers on your canvas with rhinestones. The result is a stunning piece of wall art that's dimensional and looks like cross-stitch. The craft technique is very relaxing, as you can fill in the artwork at your own pace, creating a section at a time. This kit is full of country charm, featuring a 12 by 16-inch painting of flowers in mason jars.
​Kit includes:​
1 canvas with artwork printed on it
Colorful "diamonds" (plus 30 percent more than you'll need justin case)
Point diamond pen
Packet of gel
Diamond tray
Available on Amazon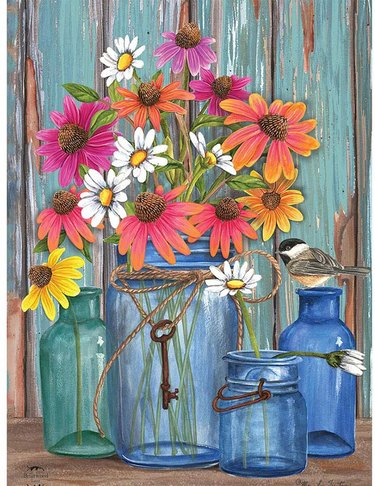 4. Handcrafted Wood American Flag Kit
It doesn't have to be the Fourth of July to pay tribute to the stars and the stripes. This unique DIY kit features an American flag that you craft out of wood strips. Each kit is hand cut and made to order, and your finished flag will have a vintage Americana quality that you'll be proud to display.
​Kit includes:​
1 frame, with D-ring hooks attached for hanging
13 wooden stripes
1 wood block for stars
2 containers of stain (blue and red)
1 container of white paint
1 bottle of wood glue
2 paintbrushes
Vinyl stencil of stars
1 popsicle stick
1 paint cloth
Instructional/informational sheet
Available on Etsy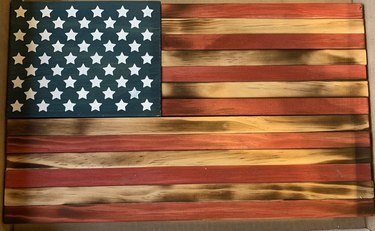 5. Farmhouse Signs Paint Kit
Farmhouse signs are an easy way to add whimsical charm to your home, and this kit features an array of messages. You can even personalize one of the signs with your family name. Creating these signs would be a great activity for everyone in the family or the main event of a craft night party with friends. Then, you can show off the signs on a tier tray or shelf.
​Kit includes:​
Sign cutouts for seven signs
Paint
Paint sponges
Twine
Glue
Available on Etsy
6. DIY Bird Feeder Kit
This rustic décor accent is for the birds. Now, your home can be the most popular one on the block for all your feathered friends. This bird feeder kit is made with reclaimed wood pallet pieces, giving the finished piece a homespun appeal. The natural wood looks great on its own, but you can paint or stain it if you'd like. So, as your creative juices fly, so will all the birds flocking to visit your yard.
​Kit includes:​
Precut and sanded boards
Screws and nails
Eye hooks
String
Available on Etsy
7. "Blessed" Country Wreath Kit
A colorful wreath is a great way to greet family and visitors who come through your door. Wreaths also liven up a patio or outside gate not to mention a kitchen or office. Creating your own wreath is a fun way to flex your creativity. They're easy to assemble as long as you have the right materials, and this wreath kit has so many elements for you to play with, including a sign that says "blessed."
​Kit includes:​
14-inch metal wreath frame
20 12-inch beige pipe cleaners
10-yard roll moss-green metallic deco mesh
10-yard roll matte metallic burlap deco mesh
8 by 12-inch wood "blessed" sign
10-yard roll of 2.5-inch shimmer dark denim ribbon
10-yard roll of 2.5-inch brown and gold cheetah ribbon
10-yard roll of 1.5-inch ivory and gold Swiss dot ribbon
10-yard roll of 1.5-inch moss-green polka dot ribbon
Available on Etsy
8. Mason Jar Sconce DIY Kit
Could this trio of Mason jar sconces be any more delightful? This DIY kit includes everything you need to make three wall sconces adorned with Mason jars. Fill each jar with dried or silk flowers, and you'll have a home decoration that will be a showpiece for the wall. You can even change out the contents of the jars to suit the season.
​Kit includes:​
3 Mason jars
3 pieces of stained wood
1 jar of cream-colored paint
1 paintbrush
Twine
Sawtooth hooks
Jar hooks
Step-by-step instructions
Available on Etsy
9. Labrador Wood Door Sign
Calling all dog lovers! This door sign is the perfect accent to celebrate humankind's best friend. Hang it on your front door, above a dog bed or in the entryway where you keep the leashes. The sign's festive bow and greenery are the perfect finishing touches and can be customized to match your home's color scheme.
​Kit includes:​
1/4-inch-thick Baltic birch plywood round sign
Black Labrador sticker made from permanent vinyl
Rope banner with heavy chipboard that is sealed with yourcustom saying on top
Greenery
Bow
Thick burlap rope glued to the back for hanging
Available on Etsy
10. Heart String Art Pallet Sign
String art is so fun to make, and this string art sign of a heart will definitely become a favorite décor piece in your home. The wood pallet base and jute cord for hanging give this sign its farmhouse charm. You'll find that the simple act of stringing the yarn around the nails is so stress-relieving.
​Kit includes:​
12 by 14-inch wood pallet
Jute cord attached for hanging
120-yard soft ecru Sugar 'n Cream brand yarn
Cut nails – black
1 heart template
Complete instructions and photos
Available on Etsy
Any of these rustic décor accents will make your home a welcoming space. The fact that you're handcrafting them yourself just makes them that much more heartfelt and special.