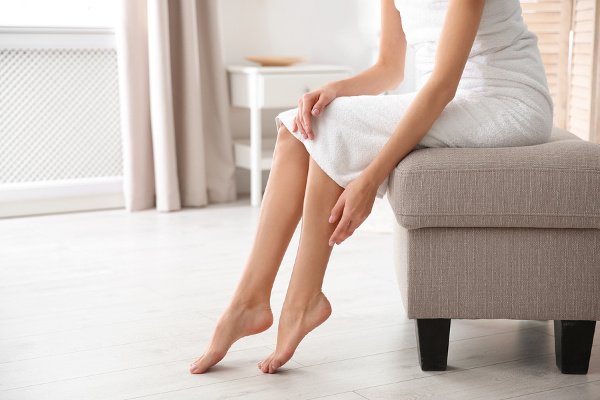 One of the best things about welcoming warm weather is getting to wear open-toed and open-backed shoes that let our feet breathe. That is, of course, unless you struggle with cracked heels. Not only are cracked heels unattractive, they can be extremely painful, especially if they split and bleed. On a positive note, treating your cracked heels doesn't need to be complicated. Cracked heels are pretty common, and unless they're associated with a medical condition, you can treat them yourself at home. There are a number of home remedies for cracked heels so you can take your heels from cracked to soft and supple.
What Causes Cracked Heels?
Cracked heels, medically known as keratoderma occur when the skin barrier is disrturbed, causing the skin to lose hydration and become inflamed. When the skin on your heels becomes thick or dry, it loses elasticity and suppleness, which can result in your heels painfully splitting. Cracked heels can surface for a number of different reasons. If you've had cracked heels since you were a child, it could be a genetic issue.
However, if you've developed cracked heels later on in life, it likely has more to do with your surroundings than genetics. Cracked heels can be a result of hormonal changes, as well as environmental stressors, and chronic skin conditions like eczema and psoriasis can put you at a bigger risk too.
If you wear footwear that offers little protection to your heels, this could also be cause for concern, and if you stand all day at work or home, this can also make you more prone to cracked heels. Extra weight gain can put increased pressure on your heels, causing them to callous and crack, and nutrient deficiencies leave you skin unable to remain soft and supple.
4 Tips to Prevent Heels From Cracking
1. Wear Closed-Back Shoes
Shoes and sandals with open backed heels are one of the biggest culprits of cracked heels. Protect your heels by wearing closed back shoes and socks, especially if you notice your feet starting to get dry.
2. Avoid Hot Water as Much as Possible
If you're prone to cracked heels, don't take showers in hot water. Stick to lukewarm water, or as cool as you can stand. And make sure to limit your shower to 5 to 10 minutes to prevent moisture loss.
3. Avoid Scented and Harsh Products
It's important to keep your feet clean to keep them from becoming infected, but harsh soaps can dry out your skin even more. Stick to mild cleansers to keep more moisture in your heels. Make sure to stay away from any products that are scented or that contain retinoids, alcohol, or alpha hydroxy acid, as they can be too much to handle for sensitive skin.
4. Moisturize Daily
Keeping your feet moisturized is key to preventing cracked heels. You should be moisturizing your feet daily to prevent moisture loss and keep your skin as soft as possible. Find a foot cream you love and use it consistently to prevent cracked heels.
6 Home Remedies for Cracked Heels
1. Drink Lots of Water
What you put into your body affects how your body looks on the outside, and this includes you feet. Since the main culprit of cracked heels is not enough moisture in the skin, you're going to want to up your water intake as much as possible. Your skin can lose up to a liter of water a day, so staying hydrated is key to soothing cracked skin.
2. Stay Moisturized with Coconut Oil
Use coconut oil at least once a day to moisturize your feet. Ideally, it should be applied twice – once when you wake up and once before you go to bed. Consistency is the number one problem when it comes to keeping skin moisturized, and if you have cracked feet, it's even more of a reason to make moisturizing part of your everyday routine. Moisturizing helps retain fluids in your skin so your heels can stay soft and supple.
3. Honey Scrub
Honey is amazing for your skin. It's a natural humectant, meaning it draws moisture from your inner tissues to the outer layers of your skin. This helps the outer skin heal, making this one of the easiest home remedies for cracked heels. Add one cup of honey to a tub of warm water. Soak your clean feet in the mixture, massaging them on and off for twenty minutes. Gently exfoliate your skin with a pumice stone, then pat your feet dry and apply your moisturizer.
4. Vaseline and Lemon Juice
Vaseline is one of the best moisturizers out there and works especially well for cracked heels. Before going to bed, massage vaseline into your cracked heels, allowing it to be absorbed by your skin, and put socks on to keep the moisture locked in. Consider adding a few drop of lemon juice to the vaseline as the citric acid promotes skin peeling and the regrowth of new skin cells.
5. Baking Soda
Baking soda is a great exfoliant, removing dead skin cells and leaving your skin supple. It also has anti-inflammatory properties. Place 3 tbsp of baking soda into lukewarm water, mixing it until the baking soda dissolves. Soak your feet in this mixture for 15 minutes, then scrub gently with a pumice stone. Rinse with clean water and pat your feet dry with a towel.
6. Apple Cider Vinegar
Apple cider vinegar contains mild acids that will soften your dry skin, making it easier to exfoliate. Add apple cider vinegar to water and soak your feet in it for 15 minutes. Do this every other day to remedy the cracks. After you've soaked your feet, exfoliate your heel area, allowing the new, tender skin to start showing.
If you struggle with cracked heels, these tips are sure to help you combat them in the comfort of your own home. Use these home remedies to take your feet from dry and cracked and soft and smooth.