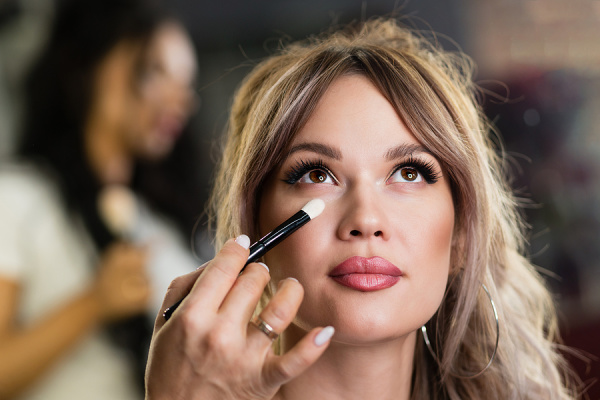 Eyeshadow is a simple way to elevate your daytime or nighttime look. It adds a little something more to your makeup routine that will have your eyes standing out. While some eyeshadow looks can be intimidating and time consuming, there are a number of eyeshadow hacks you can use to look your best in less time. From the best eyeshadow palettes to use, to prolonging the life of your shadow and tutorials on how to get pretty eyeshadow looks, we've rounded up our best eyeshadow tips for lazy gals.
Best Eyeshadow Palettes to Invest In
1. For Beginners: Anastasia Beverly Hills Modern Renaissance Eyeshadow Palette
This shadow palette is awesome for beginners because it includes a range of pigments from soft neutrals to bright, sparkly tones. The palette contains 14 full-pigment shades ranging from neutral to berry tones in matte and metallic finishes. It will allow you to create a range of versatile looks from everyday neutral looks, to romantic night time looks. The formula will go on smoothly for looks that last from day to night.
2. For Natural Shadow Looks: Urban Decay Naked2 Basics Eyeshadow Palette
Having a mix of taupe and brown neutral shades is a must in an eyeshadow palette arsenal. This palette comes with six super versatile taupe-hued nudes so you can create everything from simple eye looks to dramatic finishes. They're ultra blendable, rich colours with velvety texture for smooth application that will last all day!
3. For Bright & Bold Shadow Looks: BH Cosmetics Galaxy Chic Eyeshadow Palette
If you're looking for a fun, bright eyeshadow palette to create bold looks, this one is it. You get 18 baked eyeshadow palettes that range in colour from hot sun orange to cool earth blue and many in between. The highly pigmented colours are formulated to endure the most humid conditions so you'll look beautiful and flake-free for any activity!
Our Best Eyeshadow Hacks
1. Prime Your Eyes
Using an eyeshadow primer is key to creating a smooth base for shadow application and ensuring it lasts all day. Apply a light layer of eyeshadow primer so your eye area doesn't look or feel too heavy before putting on your shadow. It will extend the look of your shadow from morning to night and you won't have to worry about eyeshadow creasing or smudging. A primer will also accentuate the true colour of your shadow so it's not dull and lacklustre. It's definitely an eye makeup must!
2. Use Your Bronzer as Eyeshadow
If you're running short on time, instead of reaching for multiple products in your makeup bag, use a single product for multiple beauty uses. If you didn't know this hack already, your bronzer will make for an excellent eyeshadow. Simply dip your shadow brush into your favourite bronzer and swipe it on your lids like you would your eyeshadow. This will give you a light, natural hue that's perfect for daytime or nighttime looks.
3. How to Apply Eyeshadow for Beginners Step by Step | Christen Dominique
If you're new to eyeshadow and want to learn the basics of an artistry style eyeshadow look, you're going to want to watch this tutorial. She gives you step by step tips for applying eyeshadow and blending it like a pro so it's never patchy or uneven. Along with eyeshadow, she recommends products like the Too Faced Shadow Insurance Anti Crease Primer, a fluffy eye blender brush and the Laura Mercier Translucent Setting Powder for this look.
4. Pat and Dab, Don't Swipe
When it comes to eyeshadow, the best way to apply it is to pat or dab it on the lid instead of swiping it across. This will ensure your shadow blends seamlessly and you don't end up with a patchy look. You'll get a more pigmented, even layer of application than if you wipe the colour over your eye, which is what may feel like the more natural way to do it.
5. Spray Your Eyeshadow with Rubbing Alcohol to Make It Last
If you want to prolong the life of your eyeshadow, spray it with rubbing alcohol. This will help get rid of bacteria on your palette, making it cleaner for your eyes, as well as make it more vibrant so it lasts longer. Spray your eye shadow with a little bit of rubbing alcohol, then dab it with a cotton swab.
6. Use a Dark Shadow as Under Eye Liner
For a smokey eye look, don't neglect your lower lash line. Instead of using an eyeliner, apply the darkest shade in your eye palette to the lower lid and soften the look with your makeup brush. This will help open up your eyes and give you that soft, smokey look you love!
7. Use Rubbing Alcohol to Fix Loose Powder
There's nothing worse than dropping an eyeshadow palette and the powder breaking or becoming loose. To fix crushed or crumbled powder, spray a few drops of rubbing alcohol into the powder, then press down firmly with a spoon. Let it sit and become whole again so you can use it until it's done!
8. Shay Mitchell Inspired Bronzy Smokey Eye Makeup | EMAN
The smokey eye look is a must-know for every gal. This bronzy, glam version of the smokey eye is perfect for a night out. It's absolutely gorgeous and she gives you the play by play on exactly how to get the look. You'll need products like the NARS Tinted Smudge Proof Eyeshadow Base, the MAC Fix Plus Setting Spray and the Neutrogena Smokey Kohl Eyeliner. It's sultry, stunning and so easy once you practice a few times!
Eyeshadow can elevate your look in no time! Use these eyeshadow hacks, tips, and products to create easy shadow looks that look like they took time and effort.