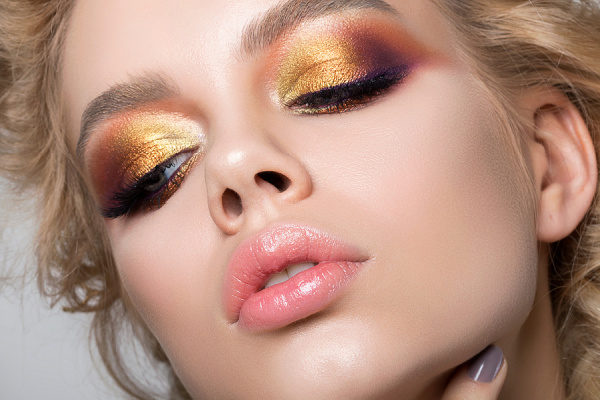 Just because you're not walking a runway doesn't mean you can't rock the season's coolest makeup looks. Editorial makeup may sound intimidating, but there's no reason you can't pull it off. It's fun to experiment with different looks and the great thing about editorial makeup is that you can wear it for an array of occasions. From brunch with friends to pool parties, concerts and upscale events, there's really nowhere you can't stun in editorial makeup. Take a look at our favourite editorial makeup looks and how to get them!
What is Editorial Makeup?
Editorial makeup is makeup that's typically seen on the fashion show runways. Just like the fashion, you can look to the catwalk to see the biggest makeup trends of the season. Often done by professional makeup artists, with the right products and tutorials, you can create your favourite editorial makeup looks yourself at home!
Editorial makeup is often bolder than everyday makeup, urging the wearer to get more playful with their look. While you may not wear some editorial makeup trends to work, you can rock them for almost any other gathering outside your home!
5 Editorial Makeup Trends
1. Floating Eyeliner
Floating eyeliner is a great way to make a stylish statement. While liner typically lives on your lids, have some fun with it by applying your liner over your crease after you've put on your eyeshadow. Stick with classic black or use a colour like blue to make your eyes really pop!
2. Neon Eyes
Another editorial eye makeup look is colourful, neon makeup. While everyday makeup can get lacklustre and boring, neon makeup gives you a cool and fun vibe. Wear it out to brunch with friends in a white blouse and denim cutoffs, or wear it with a fancy dress to your next soiree.
3. Almost-Black Lips
Dark, vampy lips aren't a typical look for this time of year, but they look absolutely stunning against more neutral clothing. Swipe on a dark violet, deep burgundy or even black lipstick and keep the rest of your face makeup toned down.
4. Pops of Glitter
Want to really sparkle this season? Pops of glitter are in, whether you want to wear it on your eyes, cheeks or lips. It's a gorgeous way to update more classic looks such as a smokey eye or cat eye. You can also wear it under your eyes to help cover up unwanted circles!
5. All Over Gloss
Glossy, dewy makeup continues to gain popularity on the runway and off. For a truly glossy look, don't stop at lipgloss. Use gloss on your eyelids, cheeks and all over your face. You're sure to have a gorgeous glow that's seriously trendy.
5 Editorial Makeup Tutorials
Ombre Cut Crease 5 Minute Makeup Tutorial | Tina Halada
If you want a super bold eye look, this ombre cut crease tutorial is one you need to master. Colourful and beautiful, you'll definitely make a statement with this editorial makeup look! She uses the Tarte Shape Tape Concealer as her eyeshadow base and then applies shades from the Anastasia Beverly Hills Novina Palette to create the ombre cut crease. In just 5 minutes, you'll be rocking one of the season's hottest makeup trends!
Graphic Liner GRWM via Angela Guzman
Floating eyeliner is also referred to as graphic liner, as it is in this video title. She takes you through her getting ready process and shows you how to create the perfect floating/graphic liner eye! She uses the Wet n' Wild Megaliner for the look and creates a flawless floating liner that starts as an extended cat eye, and connects with another line that goes across the crease. Perfection!
5 Minute Glitter Eye Makeup via An Knook
There's something about glitter eye makeup that's ineffably cool and chic. Follow this 5-minute tutorial to learn how to make glitter work perfectly for you! She uses products like the MAC Soft Ochre Paint Pot, the Tarte Cosmetics Pro Amazonian Clay Palette and the Stila Glitter and Glow Liquid Eyeshadow to get the gorgeous, glittery look!
Wearable Neutral Neon Look via iluvsarahii
If you love the neon makeup trend, but are a little nervous about trying it, here's a wearable and neutral neon cat eye look! It's so pretty and the neon is subtle yet makes an eye-popping impact. She starts out with a good eye shadow base and then applies the Fenty Beauty Instant Warmth Bronzer in Private Island. For the neon yellow, she uses the Huda Beauty Neon Palette. You'll get a beautiful pop of colour you can wear for any occasion!
Glossy Makeup via NBGA
The glossy look is all the rage this season and this tutorial shows you the exact steps to look fantastic. From your skin to your eyes to your lips, you'll learn how to get the glossy, glazed look. You'll need products including the L.A. Girl Pro HD Concealer, the MAC Paint Pot Primer and the Shiseido Luminizing Satin Face Colour. Watch the video to check out all the products you'll need for the different areas of your face, and get your glow on!
Editorial makeup doesn't have to be left to the professionals. Try these looks at home and rock them whenever you like!