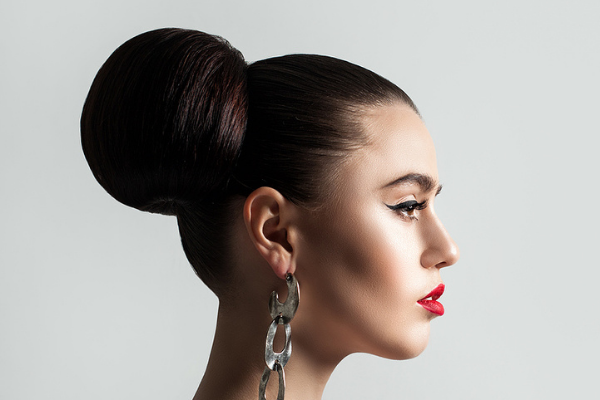 Wearing your hair in a stylish bun will always make you look classy and chic. Bun hairstyles are easy to do and they make it look like you've put a ton of effort into your hair, when really your 'do took minutes. With so many versatile options, this easy-to-achieve hairstyle can take you from the office to a date night with ease. No matter what length your hair is, check out this collection of 25 gorgeous bun hairstyles!
4 Bun Hairstyle Essentials to Invest In
1. Dry Shampoo
Like most hairstyles, bun hairstyles work best with second or third day hair. With that in mind, a dry shampoo is key to keeping your hair refreshed. Since unwashed hair can become oily, dry shampoo will help revitalize your hair and remove excess grease so your bun hairstyles are as chic as can be.
2. Texture Spray
Texture spray is another great product to have on hand for bun hairstyles. It gives your hair grit, which makes it easier to handle and provides texture for that natural, lived-in look.
3. Bobby Pins
Bobby pins will help your bun stay in place. They offer excellent hold to ensure your hairstyle is secure and doesn't come undone throughout the day. Whether you have long hair, short hair, straight or curly, bobby pins are a must for bun hairstyles.
4. Hair Oil
A good hair oil is necessary to control frizz and smooth out flyaways. Frizz and flyaways can be even more evident with bun hairstyles, so be sure to use a hair oil for a super smooth finish.
12 Bun Hairstyles for Short Hair
10 Easy Different Bun Hairstyles For Short Hair | Milabu
Check out this collection of 10 different bun hairstyles you can do with short hair, from a Dutch braided ponytail bun to a twisted messy bun to a doughnut bun and more. She uses products like the Bumble and Bumble Bb Brilliantine, mini doughnut buns and a good texturizing spray to get these 10 looks. Who said you can't get creative with short hair?
Easy Messy Bun Hack for Short/Fine Hair | Julianne Heckel
If you're wondering how in the world to make your messy bun more voluminous with short hair, we have just the video for you. Watch how she creates a gorgeous messy bun that makes it look like you have tons of hair! She uses products like the Kristin Ess Dry Finish Working Texture Spray, as well as silk hair ties (great if you experience breakage!). She gives you an awesome hack for this bun hairstyle, making your bun look as voluminous as possible.
Hair Tutorial: Rolled Bun for Short Hair | Laura Bradshaw
If you're looking for a fancier bun hairstyle, this tutorial has you covered. This rolled bun is perfect for work, a date night or a more formal event. It's super quick and easy and all you need is a tangle teaser to give your hair a soft, romantic look, plus a hair elastic and bobby pins.
3 Bun Hairstyles for Medium Hair
Low Bun Tutorial | Sleek and Easy Hairstyle | Lydia Tomlinsin
This low bun is super sleek and sophisticated, and guess what, it's easy too! She starts by spraying her hair with some dry shampoo as this hairstyle tends to work best with slightly unwashed hair. She also uses a dry texturizing spray and a clear brow gel to tame her flyaways. Follow her step by step guide as she takes you through this simple yet stunning look.
Quick Messy Bun Tutorial | Medium Length Hair | Elise Luise
Check out this tutorial for a quick messy bun on medium length hair. It's super easy and the end result is gorgeous. You don't need much for this look – just some bobby pins and 2 hair elastics and she recommends using a dry shampoo to start to give your hair some texture.
An Easy Low Bun Updo Tutorial | Ashley Brooke
This pretty low bun is the easiest, most gorgeous little updo around. It's perfect for second or third day hair so don't fret if you feel like your hair is too greasy. She starts the process by running a curling iron through her hair, then uses both dry shampoo and texture spray to give it texture and hold. She also uses the Kenra Volume Spray for even better styling.
10 Bun Hairstyles for Long Hair
3 Fall Low Buns | Easy Hairstyles | Missy Sue
These low bun hairstyles are extremely elegant and perfect for special occasions. They're simply stunning and you can easily wear them to a wedding or for a special date night. Follow her step by step guides for each bun hairstyle so you can do them yourself at home. All you need is bobby pins, a rattail comb and a medium hold hairspray.
Bohemian Braid Updo | Hair Tutorial – Simple & Easy | Elise Luise
A braided bun is a gorgeous, statement-making hairstyle. Check out this bohemian braid bun that's super fast and easy, and perfect for busy mornings. No heat or pre-styling is required for this look – all you have to do is follow her step by step instructions! It's ideal for the days when you don't want your hair in your face and all you need is a brush, texture spray and clear hair elastics.
6 Easy Messy Buns | Annies Forget Me Knots
If you have long hair, messy buns will be your saving grace for days you need your hair out of your face! These 6 messy bun hairstyles are simple and stylish and you can switch them up from day to day. She suggests using dry shampoo, hair spray and clear eyebrow gel for your flyaways.
No matter your hair length, these are easy and stylish bun hairstyles you can use on the daily whether you're going to work, out with friends or even to a special event!